Counter Terrorism Perspectives: CTP
TM: "Security Risks Rise in Rohingya Refugee Camps on the Myanmar-Bangladeshi Border"
January 09, 2023
Analysis
As Rohingya refugee camps near the Naf river (which partially separates Bangladesh and Myanmar) become hubs for organized crime and militants, Bangladeshi authorities fear spillover effects for Bangladesh and for the region more broadly. Refugee camps have mushroomed along Bangladesh's southeastern border since August 2017 as a result of the Rohingya exodus from Myanmar's Rakhine State. However, now these refugee camps are becoming havens for crime, replete with gang violence, targeted killings, and the trafficking of drugs, firearms, and counterfeit currency.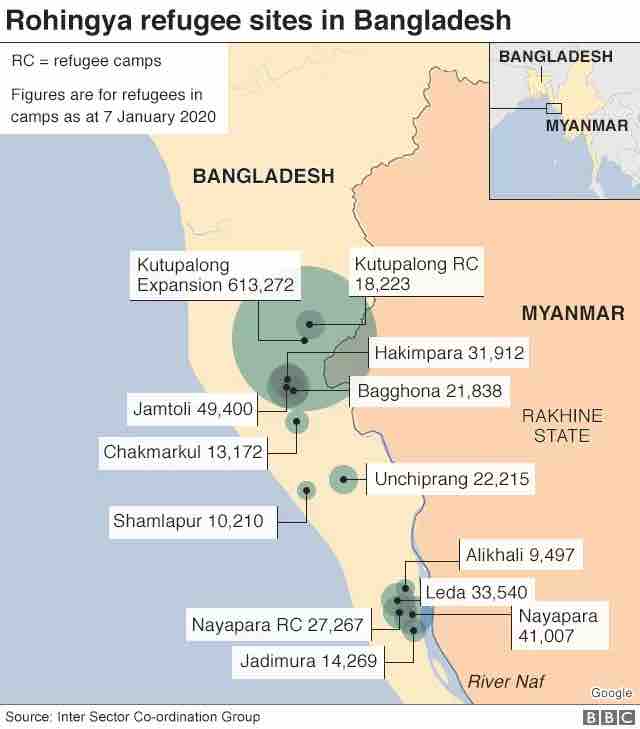 Security agencies in Bangladesh blame these activities on the Arakan Rohingya Salvation Army (ARSA) and a relatively new armed militant group, Islami Mahaz (IM), along with several armed criminal factions. The problem can be seen in the over 35 camps located in Ukhiya and Teknaf of Bangladesh's Cox's Bazar district (Dhaka Tribune, October 26; BDNews.com, September 29). Bangladesh still officially denies the presence of Rohingya militants on its soil and maintains a zero tolerance policy towards terrorism, instead proudly touting its multifaceted preventive measures. However, the country is waking up to this novel security risk within its borders more clearly now than ever.
Crime in Cox's Bazar
Bangladesh now hosts over one million Rohingyas in various camps on its territory. Five years have passed since Rakhine State in Myanmar witnessed a military crackdown on the country's restive Rohingya Muslims. This led to a fresh exodus of refugees into bordering Bangladesh from August 2017 onwards. According to Bangladeshi police sources, between August 2017 and September 2022, there were nearly 2,500 cases of crime and violence, including 116 targeted killings, in the Rohingya camps. Seven identified terrorist gangs exist in Teknaf (including Hakim Bahini, Sadeq Bahini, and Hasan Bahini) and another seven gangs in Ukhiya (such as Munna Bahini, Asad Bahini and Rahim Bahini) (Dhaka Tribune, August 25; Prothom Alo, October 3, 2021).
Although Bangladeshi authorities have claimed that there has been a substantive reduction in violent incidents, in October and November 2022 there was a spike in violence. Militant factions affiliated with ARSA and IM began targeting local community and religious leaders. Also under threat are civilians who advocate for Rohingya rights and their safe repatriation to their native Rakhine State, as opposed to remaining in the camps in Cox's Bazar (New Age, October 27). Further, besides targeting Myanmar's army in cross-border attacks, Rohingya militant factions now often confront Bangladeshi security and intelligence personnel. The main groups of targeted personnel include the Directorate General of Forces Intelligence (DGFI), Border Guards Bangladesh (BGB), and the Armed Police Battalion (APBn), who are tasked with guarding the borders as well as the maintaining law and order in the camps. The motives of these militant groups seem to be to control the lucrative illicit trafficking and trade markets while silencing voices who oppose their role in criminal activities in the refugee camps or prefer to cooperate with the Bangladeshi police.
One of the most notable attacks was on November 29, when Rohingya militants killed Shahab Uddin, who was a junior camp leader in Ukhiya. Mohammad Jasim, a Rohingya leader, was also abducted and killed at Balukhali camp in Ukhiya on October 26. Earlier, between October 12 and 15, three community leaders identified as Mohammad Anwar, Mohammad Yunus, and Mohammad Hossain were killed in separate incidents (Dhaka Tribune, November 29; Daily Star, October 27; The Business Standard, October 15). On November 14, a Bangladeshi military intelligence officer, Rizwan Rushdee, was killed in a counter-narcotics operation near a Rohingya refugee camp in the Bandarban area. Bandarban is known as the "zero point" or "no-man's land" between Myanmar and Bangladesh. Similar to Rizwan Rushdee's death, ARSA was accused of killing Saidul Islam, a member of the Bangladeshi APBn on September 19 (New Age, November 26; New Age, November 4). These above-mentioned events are not isolated, but reveal a pattern in recent months of targeted violence not only against vocal Rohingya community leaders but also against security personnel. This spate of attacks prompted Bangladeshi authorities to launch a counter-terrorism effort in late October, termed "Operation Root Out."
Complete Article can be read here: Animesh Roul, "Security Risks Rise in Rohingya Refugee Camps on the Myanmar-Bangladeshi Border", Terrorism Monitor (Jamestown Foundation) Volume: 21 Issue: 1, (January 06 ) 2023. https://jamestown.org/program/security-risks-rise-in-rohingya-refugee-c…