Counter Terrorism Perspectives: CTP
A STUDY OF AL-QAEDA'S TARGET-SPECIFIC NARRATIVES IN BANGLADESH
September 30, 2022
Analysis
Abstract: This article examines Al-Qaeda in the Indian Subcontinent's (AQIS) extremist propaganda in Bangladesh and how this South Asian affiliate of the Transnational Jihadist group- Al Qaeda- has dominated the extremist narrative against Bangladesh. The analyses draw on primary data from AQIS supporter channels on encrypted social media platforms such as Telegram and various "cloud-platform" websites that serve as repositories for the group's propaganda. Narratives explored in this article highlight AQIS' strategy of infiltrating and recruiting from the Bangladesh army to carry out attacks against India by highlighting the latter's influence on the Bangladesh military and defence sector. This is coherent with AQIS' strategy of exploiting anti-India sentiments prevalent in Bangladesh. Through its nuanced strategic communications, AQIS in Bangladesh seeks to appeal to the local sentiments, garnering support and recruiting sympathisers, especially the youth. The article also explores the implications of such strategies in the wider context of the Taliban's takeover of Afghanistan in 2021 and the killing of Al-Qaeda leader Ayman al-Zawahiri in July 2022.
Keywords: Al-Qaeda, Bangladesh, Al-Hikma, India, Propaganda, Jihad.
Citation: Suraj Ganesan, "A STUDY OF AL-QAEDA'S TARGET-SPECIFIC NARRATIVES IN BANGLADESH", Counter-Terrorism Perspective, No. 3, September 30, 2022, https://sspconline.org/ctp/study-al-qaedas-target-specific-narratives-b…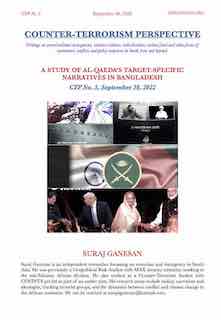 Author: Suraj Ganesan is an independent researcher focussing on terrorism and insurgency in South Asia. He was previously a Geopolitical Risk Analyst with MAX security solutions, working in the sub-Saharan African division. He also worked as a Counter-Terrorism Analyst with COVINTS pvt ltd as part of an earlier stint. His research areas include radical narratives and ideologies, tracking terrorist groups, and the dynamics between conflict and climate change in the African continent. He can be reached at surajnganesan@hotmail.com.