Issue Brief
Safe Havens: The Emerging Terror Hubs in South Asia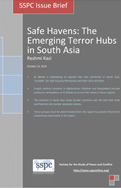 Al Qaeda is attempting to expand into new territories in South Asia, "suitable" for safe housing themselves and their illicit activities.
Fragile political situation in Afghanistan, Pakistan and Bangladesh provide conducive atmosphere to Al Qaeda to secure their bases in these regions.
The situation in South Asia raises further concerns over the fact that India and Pakistan are nuclear weapons nations.
Terror groups must be exterminated from the region to prevent them from unleashing catastrophe in the region.