Issue Brief
Northeast India: The Emerging Scenarios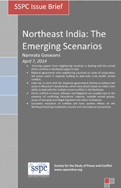 Ensuring support from neighboring countries in dealing with the armed ethnic conflicts in Northeast region is vital.
Bilateral agreements with neighboring countries on areas of cooperation will prove useful in capacity building to deal with cross border armed conflicts.
India has to work with the Myanmar government directly to address the issues in Myanmar's borderlands, which have direct impact on India's own ability to deal with the multiple armed conflicts in the Northeast.
Ethnic conflicts in Assam, Manipur and Nagaland can escalate due to the presence of conflicting intra-ethnic violence, multiple armed groups, issues of land grab and illegal migration into ethnic homelands.
Successful resolution of conflicts will have positive effects on the Northeast boosting investment, tourism and international connectivity.