Issue Brief
Asian Shipyards Respond to Arctic Opportunities
December 15, 2012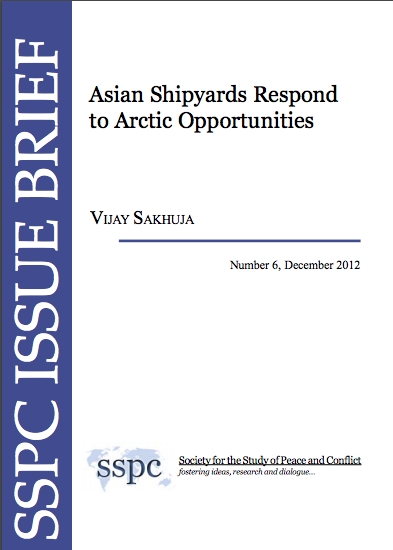 The Arctic sea ice has refrozen after a relatively longer summer this year compared with 2011. During the season, there were three significant shipping events.
First, the navigation conditions during the year were favourable and a tanker was in transit as on 30 November, compared to 18 November 2011 when the last voyage had been completed.

Second, 46 vessels transited through the Northern Sea Route (25 eastbound and 21 westbound) which compares favorably to 34 transits in 2011 and only four in 2010. In terms of cargo, 1.26 million tons were moved in 2012 which is a 53 per cent increase over 0.820 million tons in 2011. Bulk of the cargo constituted energy products such as diesel, jet fuel, gas condensate, LNG and other petroleum products which were moved by 26 vessels (18 tankers west-east direction and 8 in the opposite) accounting for 8,94,079 tons. The largest consignment was of 66,552 tons of jet fuel from Korea to Finland onboard the Norwegian tanker Marika. The route is yet to see a super tanker undertake a voyage.

Third, for the first time in the history of Arctic sailings, a LNG tanker Ob River carrying 66,342 tons of gas sailed from the Norwegian gas liquefaction plant on the Barents Sea coast at Hammerfest. It covered more than 6,000 miles through the Northern Sea Route to Tobata Port in Fukuoka Prefecture in southwestern Japan thus saving nearly 20 days if the vessel had followed the route through the Indian Ocean i.e. via the Suez Canal and Straits of Malacca.