Commentaries
Anti-Shia Violence: Widening Sectarian Schism in Pakistan
April 19, 2021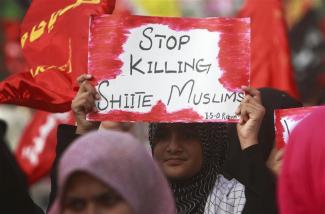 Surprisingly the number of terrorist-related incidents in Pakistan has relatively gone down in recent months, but there is an increase in sectarian violence and atrocities on the minority population. The international community has expressed serious concern. Recently, the US State Department issued travel advisories to its citizens visiting Pakistan, citing terrorism, sectarian violence and COVID-19. It also asked its citizens not to travel specifically to Balochistan and Khyber Pakhtunkhwa provinces due to cases of terrorism-related incidents and kidnappings.
One would interpret that these advisories are routine exercise. However, it has some nuances given Pakistan's claim on control over internal armed conflicts and improvement in governance. The ground reality does not match its claims.
Media reports have indicated that the minorities have been subjected to various forms of oppression in the country with the tacit support of the state. The Shia population is around 20 per cent of the total population of Pakistan.  Sunnis are not only dominant but also the majority sect in Pakistan. A media report said four people, including two Shia Muslims, one Ahmadi sect member and a US citizen who renounced the Ahmadi sect, were gunned down in September 2020. In the same period, around 50 Shias were booked under a different section of the blasphemy law, which has been used as a tool to persecute the minorities.
Approximately 4,847 Shias were killed in sectarian violence between 2001 and 2018. Even in the late 1990s, many Shia intellectuals faced targeted killings in Karachi. Interestingly, the Barelvis, who are known to have greater sympathy for the Shias, also seem to have turned against them now. Although the ideological shift had started to become visible in early  2010, the Barelvi Tehreek-e-Labbaik Pakistan (TLP), now joining the Deobandis against the Shias, is a more dramatic incident.
The gravity of the situation is indicated by the Prime Minister's Special Representative on Religious Affairs, Maulana Tahir Mehmood Ashrafi. Addressing a press conference at Muttahida Ulema Board (MUB) office in Lahore on February 15, 2021. He termed terrorism, extremism, sectarian violence and killings of innocent people anti-Islam. Ashraf's statement came while the number of sectarian violence has gone up across the country. Even Fawad Chaudhry, currently serving as the minister for science and technology in Imran Khan's government, conceded that sectarianism was an issue that was getting "out of hand". For example, the MUB has ruled in over 140 cases that the blasphemy laws were not misused in the last two years. The killing of 11 miners belonging to the Hazara community in Balochistan is another example of oppression against the minorities in Pakistan. Moreover, the unsavoury practice of takfir — declaring others non-Muslim (Shias and Ahmadis) — has witnessed explosive growth. Attack on Hindu temples and forced marriage of Hindu girls are common.
The origin of the sectarian resurgence started in 2017 when the Pakistani government began making concessions to the extremist Sunni Muslim groups. In 2017, TLP forced a law minister to quit over a perceived softening in the blasphemy laws.
The most organised and virulent anti-Shia Muslim campaign reappeared in September 2020 on social media by demanding that Shia Muslims be declared heretics. The hashtag "infidel, infidel, Shias are infidel" began trending. Then, in mid-September, some 30,000 people, organised by Sunni Muslim extremist groups, gathered in Karachi over two days to call Shia Muslims "unbelievers" and "blasphemers" and called for their beheading. Later, similar reactions were expressed in other cities, including the capital Islamabad. Many people were seen chanting "Shias are Kaffir" (disbelievers) and holding banners of Sipah-e-Sahaba Pakistan, a terrorist organisation linked to the killing of Shias over the years.
It is learnt that these anti-Shia campaigns were led by two hardline Sunni Muslim groups, Ahl-e-Sunnat-Wal-Jamaat (ASWJ) and Tehreek-e-Labbaik Pakistan (TLP). ASWJ was previously banned in Pakistan under the Anti-Terrorism Act, but the ban was lifted in 2018. However, globally, it is still considered a terrorist organisation. Despite that, in the 2018 elections, the ASWJ threw its influential backing behind 70 candidates from Imran Khan's Pakistan Tehreek-e-Insaf (PTI) party. The ASWJ and TLP were also allowed to run in the election, winning seats in parliament.
Moreover, even with their well-documented extremist positions over the past couple of years, TLP and ASWJ have been allowed to assemble, make public anti-Shia speeches, carry out rallies, run for political office and mobilise against the Shia community, ensuring their power and influence in Pakistan go from strength to strength.
The article is part of South Asia Conflict Monitor, April 2021. Also, in the issue,  Brief No.1: "Bangladesh: Free Speech, Extremism and Rule of Law"; Brief No.2: Myanmar coup: Implications in  North-Eastern region of India'.