Commentaries
'Stans' in India's Foreign Policy Basket
May 29, 2019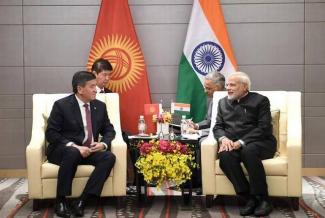 Despite a strained relationship with the neighboring  'Stan' (Persian for "land, place or "country")  i.e. Pakistan for the last few years, India has been gradually bringing other 'Stans' into its foreign policy fold. Kosh Kelingiz ! (Welcome!).
By extending an invitation to the President of Kyrgyzstan among other heads of States of the BIMSTEC group (Bay of Bengal Initiative for Multi-Sectoral Technical and Economic Cooperation) and Mauritius for the swearing-in ceremony of his second term as the Prime Minister of India, Modi has shown pragmatism in his foreign policy outreach. The Eurasia division of the Ministry of External Affairs (MEA) must be acknowledged for bringing Kyrgyzstan into the swearing-in ceremony which is crowded by SAARC/BIMSTEC divisions. The coming five years will be a consolidation of India's 'extended neighbourhood' policy. Can India be pivotal to the development of Central Asia? Exactly five years ago, PM Modi invited leaders of the SAARC member countries for his swearing-in ceremony in Delhi to leverage stronger regional cooperation. Whether the presence of heads of SAARC countries transformed into tangible foreign policy achievements or not, that is a topic that needs separate introspection on lessons of pragmatic engagement.  
Central Asia carries a huge potential for constructive engagement with India. Since its independence from former Soviet Union, engagement has remained either lip service by successive heads and high-level dignitaries of India visiting the region or confined to parameters of geo-strategic and geo-political drawing boards in strategists' imagination. It is interesting to note that India's economic liberalisation coincided with the independence of the 'stans' and acceptance of western liberal economy led by the US and the World Bank. Despite being one of the first countries to recognize 'stans' as independent countries and subsequently establish diplomatic missions with them, it took India more than 20 years to formulate 'Connect Central Asia' policy in 2012. Dividends from such limited geostrategic analysis have not only delayed building a robust presence for India in the region but have made India a fourth pillion rider in the region.   
By extending invitations to the President of Kyrgyzstan, India has displayed seriousness in doing business with the 'stans': Kyrgyzstan, Kazakhstan, Tajikistan, Uzbekistan, and Turkmenistan. Two decades of consolidation of power by regional leaders are slowly diffusing. The region is changing rapidly. However, there is no dearth of sectors where India can contribute robustly in partnership with the 'stans' to develop India-Central Asia relationship into a new level. India's willingness has been already seeded under Modi's first term.
The 'Connect Central Asia' policy covers economic, strategic, regional connectivity through infrastructure development, information technology, cooperation in education and research, joint scientific research, strategic partnerships in defence and additional cooperation in counterterrorism efforts. During PM Modi's first term as Prime Minister, the region witnessed cautious but candid engagement through 'Connect Central Asia' policy. During his first official tour, despite engaging in the usual lip service of century-old shared history, cultures, foods and legends between India and modern Central Asia, Modi succeeded in establishing a personal rapport with the strongmen of the region. In diplomatic/international politics lingua, this is referred to as charm offensive - the people and leaders of the region love to trust an outsider through strong cultural admiration and personal rapport. Since 2015, India's engagement in the region has accelerated. In comparison to China's strong investment in infrastructure development in the region, however, India's footprint is visible but minimal. From a proposed Yoga Institute with Ayurvedic practices in Ashgabat (Turkmenistan) to Kyrgyz-India Mountain Biomedical Research Centre in Bishkek (Kyrgyzstan) and telemedicine links between hospitals in Kyrgyzstan with super specialty hospitals in India, Modi has transformed 'Connect Central Asia' policy to 'Act Central Asia' policy.  
Modi is scheduled to attend this year's Shanghai Cooperation Organisation (SCO) summit on June 14-15 at Bishkek. There is a high chance of informal meetings between him and the heads of the five Central Asian countries in order to accelerate and reinvigorate Central Asia engagement. This year's SCO Summit is important for India considering India and Pakistan's strenuous relations and China's putting forward its Belt and Road Initiative (BRI) roadmap in April.
India has already proposed setting up an 'India-Central Asia Development Group' at the maiden India-Central Asia dialogue in Samarkand last year. With the right format, India must bring forth agendas of discussion where it is in a position to extend support. Getting to know the requirements in these countries that can be accessed beyond Embassies present in the region. Meanwhile, India is considering allowing its employees to visit Central Asian countries on Leave Travel Concession (LTC) to advance tourism and aviation between India and Central Asia segment. In fact, in India-Central Asia aviation sector, it is Kazakhstan's carrier Air Astana that has always bagged the best airline prize by SKYTRAX. 
PM Modi must be apprised of the fact that unlocking the potential of India's engagement with Kyrgyzstan begins with transforming the landlocked country's economy into a green economy. The leadership and people's willingness towards carbon neutral growth will provide tremendous opportunities for India. India should look into avenues for joint research and exchange programs to share and develop technology that can address issues of food security and sustainable agriculture in Kyrgyzstan. The country, along with other 'stans', needs to be resilient against climate change, especially its vulnerable nomadic communities. Mountain ecosystems of Tajikistan and Kyrgyzstan, which are the twin water towers of Central Asia, could be a theme for joint action research to understand and develop a climate resilient society. Increasing quota of students and young researchers for the ITEC program from the 'stans' and strengthening institutional collaboration would definitely help in sustaining a pool of expertise to further nation building and arrest the outward movement of young people leaving the country for better opportunities. Despite the presence of BRI, Kyrgyzstan and other 'stans' would be expecting India's involvement in the construction of roads, railways, hydropower projects and housing instead of only digging earth for metals. India must not see the region as a competition ground with China to extend and establish its influence.
Last but not the least, India's 'soft power' - culture, movies, TV serials, songs, arts, handicrafts, textiles, ancient wisdom, herbal tea - while incomparable in the region, remains untapped. It needs a concerted effort to facilitate India's sustained presence in the region. PM Modi must invite all leaders of 'stans' for the Republic Day celebration next year. Hope, with now activated Eurasia in MEA with 'India-Central Asia Development Group', India is ready to be a real friend to 'stans' for a resilient future.
Salamatsyzdarby Hindustan !