Commentaries
Why Speculate? Evaluating Delhi-Dhaka Ties
August 05, 2020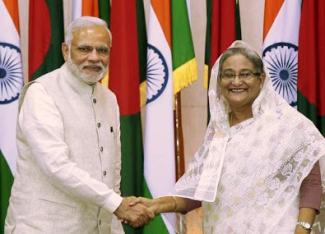 Several articles were published in the last week mostly speculative, indicating a doomsday scenario for India-Bangladesh bilateral relations.[1]  Three developments were cited as signals of this new low in the bilateral ties.[2] First, one report appeared in Bhorer Kagoj, a Bengali newspaper in Dhaka, that Indian High Commissioner, Riva Ganguly Das was not granted a meeting with Prime Minister Sheikh Hasina, despite her trying for the last four months to have such a meeting scheduled.[3] This news that Indian High Commissioner was not given an appointment by Hasina which has since been denied by Indian High Commissioner was juxtaposed with other two news relating to Bangladesh's relations with Pakistan and China. First was Pakistan Prime Minister, Imran Khan's telephonic conversation with Prime Minister Sheikh Hasina on July 21, 2020. Second, China's tariff exemption for 97 per cent of imports from Bangladesh, which made big headlines and an engaging Chinese company to expand the MAG Osmani Airport in Sylhet. Interestingly, the news regarding the Sylhet airport appeared in April when an MoU was signed between the Civil Aviation Authority of Bangladesh (CAAB) has signed an agreement with Beijing Urban Construction Group Ltd (BUCG). All these news combined is being projected as signs of profound deterioration in India Bangladesh bilateral relations.
The question here is how significant are these developments to conclude that India Bangladesh bilateral relations are witnessing signs of distress? In this context, one needs to analyse these three news headlines: one concerning India and the other two concerning Pakistan and China.
First, after the news item that Indian High commissioner Ms Riva Ganguly Das was not given an appointment to meet Prime Minister Shiekh Hasina, local newspapers picked it up, and the relation was almost written off. This led the MEA to clarify and say 'our relations with Bangladesh are time-tested and historic' while Foreign Minister S Jaishankar termed it as a 'role model'. [4] The MEA has termed this report as 'concocted story'[5] and the Indian High Commission in Dhaka also denied that there was no such appointment that was sought by the High Commissioner.[6] The relations between the two countries have received a significant boost since 2009. The two countries have taken several initiatives to further their bilateral relations which includes USD 7.5 billion credit line with less than 1 per cent interest that has been extended. Several High-level visits have taken place between the two countries, including three bilateral official visits by Prime Ministers of the two countries. High-level visits by other dignitaries including President, Vice president, Senior Cabinet Ministers, Three Service Chiefs only indicates the high priority that has been placed on the bilateral ties. Whether it was the issue of resolving several long-pending bilateral matters  such as the demarcation of the border and ratification of 1974 treaty,  the settlement of maritime boundary, enclave issue, cross border energy cooperation, collaboration on blue water economy, coastal patrolling, Sampriti series of joint anti-terror exercises, extending 500m defence credit line which is mostly utilised by the Bangladesh Navy or the Joint Border patrol mechanism that is in place. These are some of the areas where a few years back, cooperation was unthinkable. Instead, the relationship has flourished and defined as the golden era.
One needs to put in perspective Bangladesh's relations with Pakistan. Pakistan High commissioner to Bangladesh, Imran Ahmad Siddiqui presented his credential to Bangladesh President in February this year. For nearly two years Pakistan did not have a High Commissioner in Bangladesh, as the diplomat whose name was proposed by Islamabad was not acceptable to Dhaka. Moreover, the Pakistan National Assembly had passed resolutions against Bangladesh, each time a Jamaat leader, convicted of war crimes, was hanged. It was on 3 September last year, Pakistan's Foreign Minister Shah Mahmood Qureshi spoke to his counterpart, A.K. Abdul Momen over the issue of abolition of article 370 in Kashmir. [7] On  August 21, Bangladesh Foreign Ministry in a statement referred to Article 370 as an internal matter of India.[8] Pakistan High commissioner, Imran Ahmad Siddiqui's meeting with Bangladesh's Foreign Minister A.K. Abdul Momen on 1 July which was followed by Imran Khan's telephonic conversation with Prime Minister Sheikh Hasina on July 22, 2020.  Both the leaders reportedly spoke for 15 minutes. Prime Minister Hasina's press Secretary, Ihsanul Karim while speaking to Bangladesh Sangbad Sangstha (BSS) said, "The Pakistan premier phoned Prime Minister Sheikh Hasina… and wanted to know from her about the coronavirus situation in Bangladesh and how her government is combating the deadly disease" However, Pakistan issued a 9 paragraph statement listing several issues that were discussed which did not find a place in Bangladesh government's report to the press. The official statements put out by the two governments on the issues that were discussed during the phone call, according to one of the news reports, does not match. [9]  It is apparent that Bangladesh did not want to overplay this phone call. If the relationship between India and Bangladesh is at its worst phase, as some of the media houses in India and Bangladesh want people to believe, Dhaka would have given more significant publicity to Sheikh Hasina's telephonic conversation with Imran Khan. The ghost of 1971 liberation war is yet to be buried as Pakistan is in a denial mode regarding the genocide in erstwhile East Pakistan and have justified it and have blamed the sorry state of its bilateral relations on Shiekh Hasina. [10]
The other argument which is being put forwards as a sign of cooling off the India-Bangladesh ties is China's growing relationship with Bangladesh. This, however, is not a new development. There are several projects that China and India are engaged in Bangladesh. Bangladesh and China signed a Strategic Partnership Agreement in 2016 when Xi visited Bangladesh and announced a US$ 24b investment under CPEC. Many in Bangladesh considered this investment as massive and there was a debate on China's US$ 24 billion vs India's US$ 2 billion. The point here is India is not competing with every project of China, and there is no need to match them. It needs to be noted that India is mostly engaged in building infrastructure projects that would facilitate its connectivity with its North-East and economically integrate the region with the growing economy of Bangladesh and beyond. A serious attempt is made to restore the connectivity network that existed before the 1965 India-Pakistan war when Pakistan snapped the connectivity network.
It needs to be remembered that China had earlier evinced interest in building Rooppur power plant when Bangladesh Nationalist Party government approached it in 2006. This US$12b power plant is now being developed by Russia and the technical support in a non-critical category is being provided by India.  Similarly, the Sonadia port, which China was interested to develop has now been shelved. These developments did not mean that there was a setback to China's relations with Bangladesh. Just because Chinese companies are engaged in the expansion work of MAG Osmani airport in Sylhet, cannot be considered as a setback to India's relations with Bangladesh. India has specific concerns regarding some of the projects that may have strategic implications for India and which will provide China with a greater strategic presence. Given the India-China conflict, such concerns would be natural. But to project Bangladesh-China relation as zero-sum game vis-à-vis India does not take into account the deeper dimensions of the bilateral relationship.
In the past some of the media groups tried to overplay Dhaka's discomfort, especially after India decided to implement the Citizenship Amendment Act (CAA) and go ahead with National Registration of Citizens. India has asserted that it is a purely domestic matter of India and it has kept Dhaka informed. At the same time, Dhaka was indeed unhappy about how their country was named in the CAA that is supposed to provide citizenship to persecuted minorities in the neighbourhood. The Awami League (AL) government which is secular in its approach and is seen as a pro-minority party in Bangladesh; the CAA was seen as a direct affront to both AL government and Prime Minister Hasina who is one of the chief architects of the India-Bangladesh relations. It was believed that as an expression of its dissatisfaction over how Bangladesh got dragged to CAA, the visit Foreign Minister, Home Minister and later that of Deputy foreign Minister to India were cancelled. [11] The meeting of the joint river commission was also postponed. Dhaka, however, was careful in its comments over National Register of Citizens referring it as an internal matter of India. In the last few months, the relationship is moving forward.
Way forward:
Several challenges to the bilateral relations indeed remain which includes the inability to reach an agreement on Teesta and rampant smuggling and trafficking that takes place in the Indo-Bangladesh border. There is an urgent need to address the border violation perhaps by increasing vigil and making an effort to curtail the operation of smuggling racket which is active in the border at late night to smuggle cattle into Bangladesh along with other contraband. This creates unnecessary bad blood. While some in Bangladesh project it as 'border killing' and 'human rights violation', the point here is to recognise that each life is precious and there is a need to curb illegal transaction. Such activities cannot be allowed in the name of zero killing and the blame game. This also illustrates that there is a need to increase the vigil along the border and cooperation of Bangladesh Border Guard becomes pertinent to address the deaths due to rampant smuggling as Bangladesh has often complained about the Phensidyle smuggling.
Over a period of time, people to people contact has strengthened with India giving the largest number of visas to Bangladeshis.
Despite these difficulties and the unfounded media reports and several naysayers who want to project the relationship in a particular light, three significant developments in recent times only signify the growing relations. These initiatives are- the first parcel train between Kolkata and Bangladesh, the trial run of the maritime route between Kolkota and Agartala via Chittagong and a gift of 10 broad gauge diesel locomotives to Bangladesh. Interestingly,  the locomotive engines which were commissioned between September 2012 and December 2015 was to help Dhaka as 72 per cent of the Bangladesh locomotives have crossed their economic life. It was provided urgently, yet they have been portrayed as how India has gifted old locomotives which forced both the countries to issue clarification. The constant media glare and evaluating every move of India is done with the motive of embarrassing the two governments. Yet, the same amount of scrutiny is lacking in Bangladesh's relations with China.
Therefore, whether Indian High Commissioner met Prime Minister Hasina or not should not and cannot be the only measuring rod to evaluate the bilateral relations. The substance of the relationship is much more critical and should be assessed on the basis of what the relationship has achieved vis-a-vis what the two countries are capable of attaining.
NOTES
[1] Shyamol Dutta,  সম্পর্কে নতুন মোড়!, ("New turn in the relationship"), Bhorer Kagoj, July 24, 2020, https://www.bhorerkagoj.com/2020/07/24/সম্পর্কে-নতুন-মোড়/;  Ranjan Basu, "Indo-Bangla tension rumours dismissed as baseless", Dhaka Tribune,  July 29, 2020, https://www.dhakatribune.com/bangladesh/2020/07/29/is-everything-fine-between-india-and-bangladesh
[2] Kamal Ahmed, বাংলাদেশের কূটনীতি নিয়ে ভারতে অস্থিরতা, (Instability in India over Bangladesh's diplomacy); Prothom Alo, July 29, 2020, https://www.prothomalo.com/opinion/article/1671663
[3] Kallol Bhattacharjee, "Sheikh Hasina did not meet Indian envoy despite requests: Dhaka daily", The Hindu, July 25, 2020, https://www.thehindu.com/news/national/sheikh-hasina-did-not-meet-india…
[4] "Transcript of Virtual Weekly Media Briefing by the Official Spokesperson: July 23 2020", MEA, India, July 27, 2020,  https://www.mea.gov.in/media-briefings.htm?dtl/32850/Transcript_of_Virtual_Weekly_Media_Briefing_by_the_Official_Spokesperson_23_July_2020. Also see, "Delhi 'enjoy best ties,' speculations binned", Dhaka Tribune, July 29, 2020. https://www.dhakatribune.com/bangladesh/2020/07/29/dhaka-delhi-enjoy-best-ties-speculations-binned
[5] "Transcript of Virtual Weekly Media Briefing by the Official Spokesperson: July 30, 2020", MEA India, July 31, 2020, https://www.mea.gov.in/media-briefings.htm?dtl/32865/Transcript_of_Virtual_Weekly_Media_Briefing_by_the_Official_Spokesperson_30_July_2020
[6] "প্রধানমন্ত্রীর সাক্ষাৎ চাননি ভারতীয় হাইকমিশনার (Indian High Commissioner Had not requested for meeting the Prime Minister)", Kaler Kontho, July 28, 2020, https://www.kalerkantho.com/online/national/2020/07/28/940425
[7] Humayun Kabir Bhuiyan, "Pakistan foreign minister calls Momen on telephone over Kashmir issue", Dhaka Tribune, September 03, 2019, https://www.dhakatribune.com/bangladesh/foreign-affairs/2019/09/03/pak-foreign-minister-calls-momen-on-telephone-over-kashmir-issue
[8] Ministry of Foreign Affairs, Press Release, Bangladesh Position on Jammu & Kashmir, August 21,  2019, https://mofa.gov.bd/site/press_release/1a8e17e3-6917-4a08-a6fb-15ca2e751cb3
[9] Shyamol Dutta, সম্পর্কে নতুন মোড়! ("New turn in the relationship!"), Bhorer Kagoj,  July 24, 2020, https://www.bhorerkagoj.com/2020/07/24/সম্পর্কে-নতুন-মোড়/
[10] Syed Badrul Ahsan, "OP-ED: Imran Khan's call and a report in Dawn", Dhaka Tribune, July 29, 2020, https://www.dhakatribune.com/opinion/op-ed/2020/07/29/op-ed-imran-khan-…
[11] Ministry of Foreign Affairs, Press release, "Clarification on State Minister's participation in Raisina Dialogue", January 11, 2020, https://mofa.gov.bd/site/press_release/07132e4e-6ac7-4105-a69b-c1b4763c…