Commentaries
The World Is Inching Towards A Multilateral Treaty On Plastic Pollution
June 05, 2023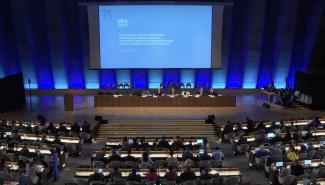 Our planet is choking with plastic we produce, consume and dispose of. Plastic has become entangled with tradition and modernity. While plastic has been increasingly and immeasurably integrated into our daily lives for the last three decades, littering of single-use plastic items in our ecosphere severely affects terrestrial, aquatic and marine ecosystems. To get rid of this transformation of the ecosphere into the 'plastisphere' – evolved ecosystems consisting of human-made plastic - the countries are negotiating in Paris (May 29- June 2) under the UN to develop a legally binding global treaty to end plastic pollution by the end of 2024. Can humankind, through their respective governments, successfully bring a comprehensive, complete moratorium on the use of plastic in a short span?
The Second Intergovernmental Negotiating Committee for Plastics (INC- 2), established by the UN Environment (UNEP) and hosted by UNESCO in Paris, is expected to produce a draft treaty on plastic pollution, including the marine environment, for further negotiations. This is the second of five meetings due to take place to complete the negotiations by the end of 2024. At the first meeting (INC-1), held six months ago in Punta del Este, Uruguay, some member countries pressed for a legally binding global mandate, some for unilateral solutions and others for both. However, campaigners and advocacy groups are pushing for the treaty to not only deal with the pollution but also drastically curb the scale of plastic production.
India's official position from the beginning of the INC-2 as well as in INC-1 talks, has been to ensure fairness, equity, shared responsibility and collective commitments and actions through consensus-based decision-making rather than a two-thirds majority. As usual in all multilateral environmental negotiations, India argues that countries have different levels of development, unique circumstances and differential contributions to plastic pollution as we have witnessed today. India prefers a mix of legally binding and voluntary approaches to tackle the plastic menace. India, as a well-thought-out strategy, with Saudi Arabia, China and Russia, called for all government parties to have veto power in deciding the future provisions of the plastic treaty that delayed the talks for a while. Many external stakeholders have pointed to India and Saudi Arabia as obstructionists to a global legally binding plastic treaty.
The UNEP estimates that the world produces about 400 million tonnes of plastic waste every year. Of more than 8 billion tonnes of plastic waste generated globally so far, at a snail's pace less than 10 per cent has been recycled. Even recycling plastic is not all risk-free. One of the released recent studies, Forever Toxic - the Science of health threats from plastic recycling, found that recycling plastic not only increases the toxicity of plastics but poses a threat to the health of consumers, frontline communities, and workers in the recycling sector. Is the hype of recycling plastic heading towards a myth? 
Plastic is a synthetic organic polymer made from petroleum with various applications, including packaging, building and construction, household and sports equipment, vehicles, electronics and agriculture. Many of us use products every day such as food wrappers, plastic bottles, plastic bottle caps, plastic grocery bags, plastic straws, and stirrers, without even thinking about where they might end up. One million plastic bottles are purchased every minute around the world, while up to five trillion plastic bags are used worldwide every year. Half of all plastic produced is designed for single-use purposes – used just once and then thrown away. We are addicted to single-use plastic so much that it is unthinkable to get rid of it. As per the UNEP, plastics contain more than 13,000 chemicals, with more than 3,200 known to be hazardous to human health, with the rest having not been assessed yet.
How can 75 to 199 million tonnes of plastic be found in the oceans despite current efforts? It is obvious that a lot comes from the rivers channelling trash directly into lakes and the oceans. The sorry state of plastic pollution can be assessed with the most intriguing photo by photographer and naturalist Justin Hofman depicting a seahorse in the ocean near Sumbawa Island, Indonesia, clinging to a bright pink plastic cotton swab. With many such photos, it is projected that if we don't change our behaviour towards the use of plastic, we may seriously intervene with our aquatic ecosystems with a projected 23-27 million tonnes per year of plastic waste by 2040 from 9-14 million tonnes per year in 2016.
Plastic waste in India can be seen wherever humans step in and beyond. India, the second plastic waste-producing country in the world annually, produces 26.33 million tonnes (2016) and is the second country to release 1,26,513 tonnes of mismanaged plastic waste (2021) into the oceans. Meanwhile, India grabbed the coveted position in 2019-20 by producing 34.69 million tonnes of plastic waste. Before the Pandemic, India's annual plastic waste generation doubled in five years. India generated plastic waste from 15.2 million tonnes in 2015-16 to 34.69 million tonnes in 2019.
India has banned 19 identified single-use plastic items with low utility and high littering potential since  July 1, 2022 through Plastic Waste Management Amendment Rules, 2021. India also prohibits the manufacture, import, stocking, distribution, sale and use of plastic carry bags with thicknesses less than seventy-five microns with effect from  September 30, 2021, and thicknesses less than the thickness of one hundred and twenty microns from December 31, 2022. But we keep on using and abusing our surroundings and asking vendors to provide the banned products. One can easily find banned plastic products in every nook and corner of the country. Simple awareness programs are not effective yet. Therefore, who will oversee the enforcement of the ban on identified single-use plastic items and plastic carry bags? We must not expect the special task forces of states and Union Territories and National Level Taskforce to monitor and implement successfully a complete ban on single-use plastic.
A multi-prong strategy can be justified to beat plastic pollution. Eventually, it has been reflected in various goals under SDGs- responsible consumption and production (Goal 12), climate action (Goal 13), life below water (Goal 14), and life on land (Goal 15) to end plastic pollution. It is time to change how we produce, consume and dispose of the plastic we use. This is absolutely possible when we change our mindsets and behaviours. Consider a sustainable lifestyle, choose plastic-free personal care products, and carry cotton or jute bags when you step out to the market. In the meantime, the UN provides a roadmap in 'Turning off the Tap: How the World can end plastic pollution and create a Circular Economy' to the countries to agree upon through principles of reusing, recycling, reorienting and diversifying the dependence on plastic. On the other hand, the ambitious global plastic treaty may anchor on provisions for re-designing and rethinking the way we package, accelerating the research and development on sustainable alternatives to plastics, improving the waste management infrastructure to cope with the massive inflow of plastic waste, adherence to polluters pay principle, a predictable mechanism for financial resources and technologies for the global south.
On June 5, we are celebrating the 50th anniversary of World Environment Day. It is no coincidence that this year's theme is to 'beat the plastic pollution' through a global campaign on ending plastic pollution. Let's start with reducing our dependence on single-use plastic from today onwards.