Commentaries
"Al-Qaeda's Ayman al-Zawahiri Invokes Kashmir Again, Calls for 'One' Jihad":TM
August 03, 2019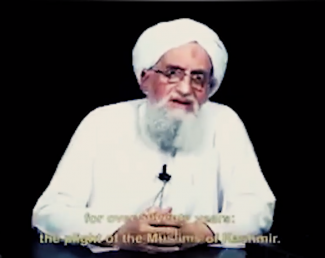 On July 9, al-Qaeda's Emir Ayman al- Zawahiri incited violence against India and Pakistan by vehemently criticizing these neighboring countries for the plight of Muslims in Kashmir. Zawahiri's video message titled "Don't Forget Kashmir" was released by al-Qaeda's propaganda arm, As-Sahab media foundation, on the online messaging platform Telegram. [1] Al-Qaeda, which struggled for many years to establish its foothold in the region, considers Kashmir as a core component of its Islamist campaign in South Asia. In spite of having a dedicated South Asian branch known as al-Qaeda in the Indian Subcontinent (AQIS), it failed miserably to entice Kashmiri youths or militant elements directly into its fold in the past. However, it has been successfully coopting the local Ansar Ghazwat ul-Hind (AGH), founded by a renegade Hizbul Mujahideen militant Zakir Rashid Bhat, (a.k.a. Zakir Musa), since July 2017.
AQIS and AGH have openly showcased jihadist solidarity and the desire for establishing an Islamic state in Kashmir in accordance with Sharia law. Al-Qaeda welcomed AGH's emergence in Kashmir's militant landscape, and on July 27, 2017, announced that the insurgency in Kashmir had entered a stage of awakening and the region was committed to carrying the flag of jihad against India's atrocities. It vowed in a message to liberate Kashmir under Musa's leadership (New Indian Express, July 27, 2017). Following the death of Zakir Musa on May 23, AQIS paid rich tribute to the slain AGH leader and later welcomed the appointment of Abdul Hameed Lelhari (a.k.a. Haroon Abbas) as Musa's successor in early June. Despite having less influence and clout on the ground, both of these groups are often critical of dominant militant groups in Kashmir, such as Hizbul Mujahideen and Lashkar-e-Taiba, for toeing Pakistan's separatist agenda rather than fighting for the supremacy of Islam and Sharia.
Al-Qaeda's latest 14:30-minute-long video surfaced on social media platforms a couple of days after the newly appointed leader of AGH Lelhari released his own anti-Pakistan video, which called for unity among Kashmir mujahideens in the Urdu language (View Point, July 8; YouTube, July 8). Lelhari accused the Pakistani state of trying to control and dilute Kashmiri jihad and called for an independent and unified Shura council to decide on the operational strategy of the group. Both messages—Zawahiri's and Lelhari's—have several things in common: mobilizing jihadist sentiment in the Kashmir region and enticing more recruits to al-Qaeda and AGH, especially at a time when the rival transnational jihadi group Islamic State (IS) has intensified its campaigns in South Asia by announcing its India and Pakistan Wilayats (provinces) with a focus on Kashmir (Economc Times, May 12; The Nation, May 17). Another plausible explanation about the timing of Zawahiri's message is to give credence and support to AGH's jihadist campaign in Kashmir following the major setbacks that the deaths of Zakir Musa and AGH spokesman Shabir Ahmad Malik, a.k.a. Abu Ubaidah, represent (Daily Excelsior, May 24; Rising Kashmir, June 26).
Al-Qaeda's Kashmir-centric propaganda, however, is not new. In the past, al-Qaeda's leadership has made several audio-visual exhortations citing the suffering of Kashmiris and inciting violence against the Indian establishment, including the government and security forces. Though not very prominently figured earlier, Kashmir remained a reference point for most of al-Qaeda's propaganda materials concerning South Asia. For example, Ayman al-Zawahri's April 2006 video message praised the jihadist movements fighting against India in Jammu and Kashmir. Most recently, al-Qaeda's as-Sahab Media Foundation released an Urdu-language Nasheed (Islamic chants) titled "Kashmir Lost But Not Forgotten" on December 29, 2017. [2] The seven-minute-long jihadist chant featured clips of Kashmir, India, and Pakistan's political leadership, military drills, and visuals from Burhan Wani's funeral procession. Wani was closely associated with AGH's slain leader Zakir Musa under Hizbul Mujahedeen's banner and had virtually inspired a new breed of militants in Kashmir even after his death in early July 2016.
READ COMPLETE ARTICLE : Al-Qaeda's Ayman al-Zawahiri Invokes Kashmir Again, Calls for 'One' Jihad,  Terrorism Monitor (Jamestown Foundation, Vol. 17 (15), July 26, 2019.