Commentaries
Dribbling Elusive 'Development' in Jammu & Kashmir and Ladakh
August 24, 2019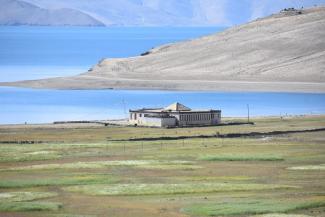 Development in Jammu and Kashmir and Ladakh have both internal and external ramifications
Lack of development in Jammu and Kashmir was argued as one of the prime reasons, besides terrorism and security, for the removal of the special status of the state Jammu and Kashmir. Since August 6, much has been deliberated, debated, discussed about Article 370 (with Article 35 A), mainly on its constitutional validity, legality, morality and prudence. However, the debates have not been in Parliament of India but beyond, not by representatives of people but by individuals. The fact remains that amendments in Article 370 may not be in the spirit and morality of constitutionalism, but it is within the constitutional possibility, probability and proficiency.
It is being argued in public domain that due to Article 370 economic indicators of Jammu and Kashmir has been much ahead of that of Gujarat, for that matter indicating rest of India. Does this then encourage to have similar provision for all remaining states of India? Or, does this indicate that centre's involvement must be limited in all states? Does this substantiate or infringe upon federalism – a salient feature of Constitution of India? As it is an internal matter of a sovereign country, it is fairly wiser to leave the question of constitutional validity of the modifications of Article 370 to the honourable apex court, which has the additional responsibility and mandate to protect the basic structure of the Constitution of India.   
Setting aside shaken activism or splintered emotions, question of development in newly formed union territories of Jammu and Kashmir and Ladakh has both formal and informal as well as external and internal ramifications which the union government has to be deal with caution and through preemptive and proactive diplomatic manoeuvres. If development of Jammu and Kashmir is the priority, let's shed some light with respect to development rather than romanticising Article 370 A.
To begin with, vision, perception and tones of both Prime Ministers of India and Pakistan on development of Kashmir are providing us with ample understanding of who wants what. From the Independence Day speech to all other speeches during numerous occasions, including Parliament debates and media interviews, the Indian Prime Minister has mostly talked about the development of the region, even going beyond LOC for developing Pakistan administered Kashmir stating that 'eradication of poverty can defeat terrorism'. Prior to India's Independence Day celebration, Indian PM in an interview said, "My sisters and brothers of Jammu, Kashmir and Ladakh always wanted a better future for them but Article 370 did not enable it". On the other side, Prime Minister of Pakistan, Mr Imran Khan with all his tactics and theatrics, resorted to maximum rhetoric immediately after the altercation of Article 370. He has restricted his vision within the parameters of security, war and conflict, with occasional references to human rights violations in the region.
The manner in which adjustments of Article 370 was executed, which can only be compared with Pokharan II test in 1998 for its secrecy, it has shaken the core existence of Pakistan's Army and its secret agency- ISI. Therefore, prime minister and foreign minister of Pakistan have now been put on duty by its military establishment to engage in making Kashmir valley (not Jammu and Ladakh) as the flashpoint of the world, in simple term, to internationalise the Kashmir issue.    
After brief shuttle diplomacy to reach out to its allies, Pakistan with the help of China reached out to the UN Security Council. But the much-hyped UN Security Council's informal closed-door meeting concluded on August 16 without a statement or any written record. Due to the ongoing 'flux moment' of international relations, China's need to protect its investment under CPEC and the UK government's minding over the Labour Party's stern comments against India, the Kashmir issue didn't get that traction as expected by Pakistan at the UNSC.   
Internationalisation of the internal matter doesn't need to be only at UNSC deliberation in today's age of advanced technology. In the age of twitter, where the medium is being used as one of the tools of foreign policy, any internal matter can be a click away to make it international. One needs to read the comments, timings, manner and behaviour of envoys of China, Pakistan and India during the media briefings immediately after the closed-door deliberation at UNSC to understand the outcome.
But, the buck will not stop at New York. Kashmir is bound to emerge, albeit under development prospect, at Washington, Manila and Beijing - headquarters of multilateral development banks (MDBs) - World Bank Groups, Asian Development Bank (ADB) and Asian Infrastructure Investment Bank (AIIB), respectively. Either a national project having a component for Jammu and Kashmir and Ladakh or stand-alone project for these new union territories would be sternly opposed by either China or Pakistan or by both during the approval stage of the projects or programs. In 2009, China vehemently opposed a $60 million watershed and flood management project in Arunachal Pradesh that was supposed to be funded by the ADB. Consequently, ADB dropped the name of Arunachal Pradesh and the project from its three year country strategy programme (2009-2012) for India.     
MDBs, unlike bilateral funding agencies, have distinct policies and guidelines on disputed territories between and among member countries. The World Bank's policy (BP 7.60) on projects in disputed areas says that the Bank would support any developmental project in disputed areas only if there is no objection from parties to the dispute. Similarly, the staff instruction guidelines of ADB has reiterated that no objection from member countries to a dispute would lead to ADB lending. The Beijing based AIIB's 2017 Operational Policy on International Relations states that the bank provides financing for a project in a territorial area that is claimed by two or more countries only if it satisfies the governments concerned agree. It is to be noted that India, China and Pakistan are members of these MDBs with various degrees of clout in the decision making the process.   
Like the Arunachal Pradesh case of 2009, China would eventually raise its objection on any such developmental project involving the MDBs in Ladakh and Pakistan will do so in Jammu and Kashmir. India had officially raised serious objection till 2017 on CPEC which is passing through Pakistan administered Kashmir. Earlier, India had objected to ADB and World Bank engagements in the massive Diamer-Bhasha dam project in Gilgit and Baltistan. There are rare instances as well where neighbouring countries have agreed to projects funded by World Bank and ADB in the immediate past. Since 2004, nearly nine development projects, including the recently completed Jammu and Kashmir Urban Sector Investment Development Project, have been financed by ADB. Similarly, the World Bank has implemented a couple of projects in the region. It is thus clear that in the present context, Pakistan would obviously object to any projects involving MDBs in Jammu and Kashmir.   
Not depending on foreign developmental assistances, someone may rightly argue, India is capable enough channelling financial packages to boost development in Jammu and Kashmir and Ladakh. Internal developmental implications are more challenging than it has popularly conveyed. It's neither El Dorado nor land-rush! The union government has to be very sensitive and cautious while charting any development plan for these two new union territories. Such a plan must be without commercial interest and exploitative mind set just like it has been maintaining the developmental and ecological balance in Andaman and Nicobar Islands despite tremendous pressure from various agencies. This is also a litmus test for the Union government to implement and abide by the entire idea of 'Sabka Saath, Sabka Vikas and Sabka Vishwas' (development for all and trust of everyone).   
The principle of democratising decision making process should be the guiding objective. A participatory inclusive development largely focusing on enhancing the capacity of local trade and business and providing able skills to local youth must be a priority. As the laws of India are applicable to Jammu and Kashmir and Ladakh now, development investments and projects must follow stricter procedures. Relaxing procedures and norms (as instructed for environmental clearances last week) should be strictly avoided in the case of newly formed union territories considering its fragile nature. The Union Government of India must restrict tourism influx which has infamous tendency to dislodge the carrying capacity of the mountain region. India's internal and external manoeuvres on development for Jammu and Kashmir and Ladakh has a long way ahead.