Commentaries
Examining The Threat of Biochemical Attack During Kumbh 2019
March 01, 2019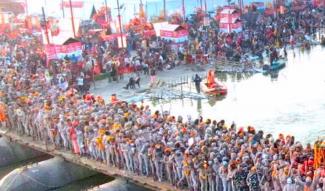 In recent years, there appears to be increased interest in chemical and biological weapons (CBW) as a means for hostile state and non-state actors to improve their capabilities in carrying out proxy wars. Credible reports have indicated that the jihadi group, Islamic State of Iraq and Syria (ISIS), has acquired chemical weapons and is using them for war theatres in the Middle East. (The UNSC Press Release, November 7, 2017).  This situation is very grave and a big threat to humanity across the globe. Even though the so-called Caliphate of the Islamic State is fast dwindling, its deep-rooted ideology and network continue to influence and radicalize people across nations.
In the context of India, which has the second largest Muslim population in the country, the Islamic State's influence is minimal and largely struggling for popular support. Recently, however, Indian intelligence and security agencies have intercepted a couple of sleeper cells deeply connected to covert pro-Jihadi networks. The security forces have successfully foiled their attempts to execute any terror attacks inspired by Islamic State's violent ideals in the country. The targets of these planned attacks were reported to be religious congregations and sensitive government installations, for which the attackers had done prior reconnaissance.
It is believed that IS inspired groups have planned a chemical attack targeting populated areas of Delhi, Maharashtra and Uttar Pradesh. National Investigating Agency (NIA) and Mumbai's Anti-Terrorism Squad (ATS) unearthed an ISIS-inspired cell under the banner of Ummat-e-Mohammadiya (UeM) on January 22, 2019, which was planning a chemical attack during the ongoing Kumbh Mela in Uttar Pradesh, as well as near the water pipelines in Mumbai (India Today, January 23, 2019). Investigations into the case have revealed that the group had devised new tactics to poison food and water sources at religious gatherings to provoke communal violence.
Vulnerable Kumbh
The Kumbh Mela (festival of the sacred pitcher) held in India is one of the largest religious congregations in the world. It is a peaceful mega event held for more than 55 days at the holy confluence of the Ganges, Yamuna and the mythical Saraswati. Taking a dip in the holy rivers is considered an essential part of the ritual of the Kumbh. Nearly 150 million people from across the world, irrespective of caste, creed or gender, are expected to be a part of it. The congregation includes ascetics, saints, sadhus, aspirant-kalpavasis and visitors. This major Hindu festival is held near the riverbanks at Prayagraj (formerly Allahabad), Haridwar, Ujjain and Nasik cities every four years in the rotation. UNSECO has declared the Kumbh Mela as an 'Intangible Cultural Heritage of Humanity.' It is widely reported about in both national and international media and people across the world come to India just to see the grandeur of the Kumbh. This year, it is being held from January 15 to March 4, 2019, at Prayagraj, Uttar Pradesh.
Kumbh gets a staggering footfall, and in case of any probable chemical attacks, the statistics are bound to be sky-high in terms of mass murder and epidemic. If anything remotely similar to a chemical attack is carried out at such places and gatherings, it would turn out to be a massive disaster for India and one of the biggest security failures of the country.
The Islamic State and BioChem Threats
The new era of terror that deploys both chemical and psychological warfare should be a concern for all of us. India can no longer ignore the possibility of chemical or biological attacks in the country. The threat perceptions have become graver after the news about ISIS trying to dump chemical weapons in India.
In 2016, the Intelligence Bureau (IB) of India intercepted two messages from terrorist groups. In one, terrorists were using coded language to say, "the medicines are coming." After deciphering the messages, the IB learnt that a group called the Harakat ul-Muhojirinfi Britaniya which owes allegiance to ISIS was trying to dump chemical weapons in India (One India, July 12, 2018). The IB also learnt that the group was trying to smuggle weapons into India through Bangladesh. However, IB reported that the group did not manage to go through with its plan and dropped it due to unfeasibility. This is an alarming situation, as India is yet to get ready for such threats and if the feasibility issue is not resolved soon, it can lead to serious threats to the country's security and change the way people see bio-chemical warfare.
In a similar IS-related development in November 2017, Kerala police issued an alert to the Thrissur railway station about possible poisoning of Sabarimala Temple pilgrims by Islamic State terrorists (Outlook India, November 27, 2017). The alert was based on a Malayalam language audio clip of IS operative Rashid Abdullah, leader of the Kasaragod IS cell who had left to join Islamic State in Afghanistan. Rashid purportedly called for war against India and lone-wolf terror attacks on crowds thronging Hindu religious events like the Kumbh Mela and Thrissur festivals (Outlook India, November 14, 2017).
The IB says that while there are various groups capable of a biological strike, most have not used such weapons as yet. For the moment, terrorist groups are carrying out test runs and will be slow to use these weapons because they are a trump card. In a conference, former Defense Minister Manohar Parrikar had revealed personally seeing pictures of biological weapon use reported in Pakistan and Iraq. Biological agents were used to contaminate the water, as a result of which several people had taken ill. It appears that terrorist groups had tested these agents in small quantities and hence no lives were lost. However, the extent of the drastic deformities caused in affected people was reportedly clearly visible in the pictures. Intelligence agencies have reported that the target cities for terrorist groups to use biological weapons in India will be Delhi and Mumbai.
Lessons from Syria
We should learn from how badly the chemical attacks in Syria impacted its women and children. On April 7, 2018, an alleged chlorine gas attack that was reported in Douma, a suburb of Damascus, which killed 43 people (BBC News July 10, 2018). A similar attack had happened in 2013, in Ghuota, Syria (New York Times, June 20, 2018). Positions and physical symptoms displayed by victims of the attack support witness claims that the agent acted rapidly and likely indicate that a high concentration of the chemical sank downwards. There is abundant evidence that the health consequences of ongoing trauma from biochemical attacks are severe. The effects are especially damaging for children. Exposure to trauma, chemical or physical, leads to changing of the developmental trajectory of a child, impacting the potential of an entire generation. Chemical weapons are more devastating for kids than adults. "Because kids are smaller in size, there's a higher impact on the smaller body," says Steven Hinrichs, director of the Center for Biosecurity at the University of Nebraska's medical center. Even a small dose of a chemical agent can do significant damage to children's organs. Children also have fewer defenses, as they can't run away as quickly from the site of a chemical attack. Once the chemicals enter their body, their immune systems, which are less mature and less adept at fighting infections off, make them more vulnerable to its effects than adults.
Conclusions
At The Hague (Netherlands), India has expressed serious concerns about the reports of Islamic State (Daesh) acquiring chemical weapons and has asked the chemical weapons watchdog, Organisation for the Prohibition of Chemical Weapons (OPCW), to closely monitor this threat. It is certain that terror outfits and radical groups' access to biochemical weapons will add to the significant amount of threats India already faces, especially with regards to gatherings like the Kumbh Mela, which can turn into massive disasters. Chemical attacks are also no less than psychological warfare and the threat of fear and death could create anarchy in the country. One of the main reasons for a possible chemical attack during the Kumbh Mela is the global media attention it gets. It is, therefore, high time we see CBW as a significant threat to national security, especially from rogue nations and terror outfits. India must develop an effective system to prevent any potential attacks using CBW if it wants to prevent mass destruction.