Commentaries
More than Meets the Eyes: India's Trade Agreement with UAE is a Strategic Step Forward
March 10, 2022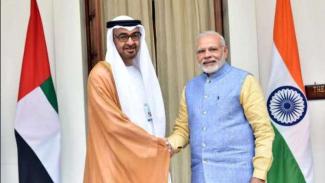 On February 18, 2022, India signed a Comprehensive Economic Partnership Agreement (CEPA) with UAE. It came after Indian Prime Minister Narendra Modi and the Crown Prince of Abu Dhabi, HH Sheikh Mohammed bin Zayed Al Nahyan attended the India-UAE Virtual Summit. "I believe that the India-UAE CEPA signed today will be a game-changer in our economic ties," PM Modi tweeted after the Summit. CEPA was signed by Indian Union Commerce Minister Piyush Goyal and UAE Minister of Economy Abdulla bin Touq Al Marr at a function held in New Delhi on the same day. Minister Goyal also termed the Agreement a 'win-win' for both countries.
Talks on CEPA between the two countries had started in September 2021, and the agreement was signed in less than six months. This is India's first trade pact in the whole Middle East and North Africa (MENA) region. The agreement will be effective from May 2022 and allow more than 90 per cent of India's exports duty-free access to the Emirates. The CEPA is likely to benefit about US$26 billion worth of Indian products that are currently subjected to 5% import duty by the UAE, which is India's third-biggest trading partner behind the US and China. While crude and refined petroleum, gold and jewellery are top export items for UAE, India exports more than 1,100 products, including petroleum, edibles, machinery, textiles, electronics, organic and inorganic products. Both countries have projected a target of over USD 100 billion in merchandise trade by 2030.
CEPA between the two countries assumes strategic significance for a few reasons. First, it will energize quite a few economic sectors in India that have been under pressure from the pandemic and restrictive trade regimes. For example, the south Indian town of Thrissur, a major textile export hub, will be one of the biggest beneficiaries of CEPA, while stagnated poultry and animal product sectors would be able to export after bans due to bird flu are over. Interestingly, India's textile exports will now have a definitive edge over those of Pakistan, the other major textile exporter to the UAE. Second, as India becomes a major manufacturing hub for a few strategic sectors like semiconductors, hydrogen energy, electric vehicles, and infra equipment, UAE could benefit in terms of imports and generate considerable revenues by investing in these sectors. With India initiating comprehensive economic reforms and ensuring prospective investors to do business with India, the pact will generate interest within the UAE investment community for investments in major sectors.
Third, a strategically important symbolism was attached to a long-standing demand of expatriate Indians in UAE when Prime Minister Modi laid the foundation of the first Hindu temple in 2018. The UAE gave the land for the temple in 2015 during Prime Minister Modi's first official visit to UAE in 2015. Members of the Bochasanwasi Akshar Purushottam Swaminarayan Sanstha (BAPS) project claim that the temple will stand firm for a thousand years. This is the first Hindu temple in the whole Middle East region.
Fourth, a new trend of strategic significance was noted when a UAE-based rifle manufacturer, Caracal, competed against global giants and bid to supply 93,000 carbines to the Indian Army in 2020. This was symbolic of deeper military-industrial cooperation between the two countries. As India opens up its private sector further, offloads state in state-owned defence companies and allows much-needed investment in the military, scientific and industrial sector, UAE could be considered not only a mere investor but, more importantly, an industrial partner. India and UAE had signed a comprehensive strategic partnership in 2017. They hold annual defence dialogues. The UAE has been a critical part of the Indian Ocean Region dialogue. Both countries take part in military exercises with each other, and there have been several Military chiefs' visits to each others' capitals. It must be noted here that UAE was the first country to promptly offer the mobile anti-drone system for PM Modi's security at the Republic Day parade in 2020.
India-UAE bilateral relations have not only evolved with time but have taken a decisive next step forward in recent times. If CEPA reflects the depth of economic and civilian side of cooperation, real-time intelligence sharing, deeper military collaboration, sincerity shown by UAE in the deportation of over 100 fugitives to India and participation of UAE firms in Indian strategic sectors are evidence of model bilateral relations that both countries nurture and cherish. This can only happen when both countries have a trust surplus, not a deficit. It is not for nothing that the Indian Prime Minister's tweet after the India-UAE virtual summit contained the term 'game changer'. The term was carefully inserted to show India's willingness to take the relations to greater heights.
The article is part of  "Defence and Security Review", Volume 2 (No.2), March  2022. Views are personal.