Commentaries
Need for Discourse-Centered Approach in Contemporary Research on Maoism
January 14, 2019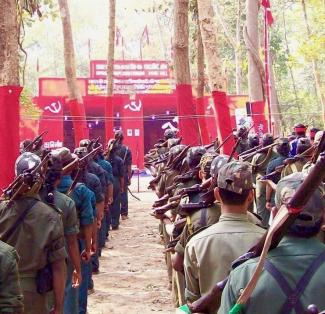 The Naxalite movement, otherwise known as Maoist movement or Left Wing Extremism (LWE), celebrated its fiftieth anniversary in India in 2017. Despite tall claims made by successive governments, people in Maoist-infested regions continue to lead a miserable life. The metamorphic growth of violence and the inability of the state to come out with a well-thought-strategy have entirely paralyzed the rural administration in Maoist-infested regions. The Maoist movement influences political processes, especially the electoral process - though it offers a strategy of negation of the same political process in its avowed methods since its inception in 1968. From a socio-political movement to the single largest internal security problem of the nation, the Maoist transformation has indeed been phenomenal.
What is Maoism? The amount of literature that contemporary Maoist movement has spawned in the last few years has been nothing short of amazing for the assortment of writing it represents, the different kinds of interest it has generated, and the questions it has raised. These scholarly works have been immensely useful for students, researchers and policy-makers alike. This article is not meant to question the significance of existing scholarly works but to draw attention towards its shortfalls in order to propose a more productive line of research to future researchers.
One serious issue with contemporary research on Maoism is the fact that it is fascinated with the Maoist actor. Some common research questions about LWE research include: What is Maoism? What are the major causes for its growth? What are its motives and goals? How is it organized and financed? How many Maoists, security personnel and civilians are killed in Maoist conflict? At the moment, the focus of Maoist research seems to be on 'Urban Maoists'.
Maoism is arguably a social construction - a fact produced in discourse. Discourse should ideally be the logical starting point for Maoist research because the Maoist actor is a product of discourse. It is the discourse of Maoist adversaries in particular that establishes Maoist motivations, strategies, organizational structures and goals. The discourse here means a productive force which shapes thoughts, ideas, beliefs, values and identities. If Maoism is a social construction, then the Maoist actor can no longer be the primary source for LWE research because the actor is a consequence of discourse, rather than vice versa. Hence, the primary source of LWE research must be the discourse in which the social construction of Maoist movement takes place. Such a discourse would provide a definite meaning to CPI-Maoist's words and deeds, which would then take us to a relevant reality. This becomes more obvious when one starts examining policies aimed at countering Maoism, which cannot be based on objective knowledge about the CPI (Maoist), but rather on the understanding of CPI (Maoist) that has been produced in political, scientific and media discourse. Counter-Maoist policies can be understood and explained only if one takes account of the discourse on which they are based.
The first phase of LWE research in India attracted a number of intellectuals who came out with brilliant pieces of works. Mohan Ram's Indian Communism: Split within a Split (1969) and Maoism in India (1972), Sankar Ghosh's The Naxalite Movement: A Maoist Experiment (1974), Biplab Dasgupta's TheNaxalite Movement (1974), Manoranjan Mohanty's Revolutionary Violence: A Study of Maoist Movement in India (1977), Sohail Jawaid's The Naxalite Movement in India: Origin and Failure of Maoist Revolutionary Strategy in West Bengal (1979) and Sumanta Banerjee's In The Wake of Naxalbari: A History of the Naxalite Movement in India(1980) are some of the works that analyse the first phase of the Naxalite movement and are classics in the area of Maoist research. While the amount of data and analyses in these works has proved to be extremely useful for researchers, these works concentrate overwhelmingly on the Maoist actor and neglect the discourse approach. Universally, these works try to locate the Maoist conflict through its leaders like Charu Majumdar, organizations like CPI (ML), strategies and supporters who are mostly tribes and peasants. Uniformly, these works blame the condition of the rural people for the growth and failure of the movement.
The second phase of the Maoist movement in India - which started in 1980 and continued up till2005 - may be described as a lean phase in Maoist research. This void was filled by the Maoists themselves and a number of books published by the People's War Group (PWG) like Women Cadres of the PWG: Conflict Mongers or Managers, History in the Making, and New People's Power in Dandakaranya. They also came out with several booklets for spreading of their ideology and programmes. during this time. These Maoist publications were excessively actor-centric, with academic research on Maoism also revolving around Maoist actors involving People's War Group, Maoist Communist Centre, students, women, and leaders. It was during this period that government agencies reduced the Naxalite movement to a law & order problem, further alienating the Naxals and reducing them to criminals. On the other hand, sections of academicians and intelligentsia began projecting Naxalites as a Robinhood army. Whatever research work took place during this period fell into one or the other above-mentioned two categories while avoiding the discourse approach. Prakash Singh's 1995 book The Naxal Movement in India attempts to locate the movement in a different manner but eventually ends up answering the question of why people take up arm -resorting to the actor approach once again.
The Maoist movement in India entered yet another phase in 2004 after the formation of the CPI (Maoist). It was during this time that research on the Movement received tremendous attention from academics, researchers, analysts, journalists, security personnel and bureaucrats, resulting in the publication of at least 50 scholarly books, several novels, and numerous essays. In 2009–2010, the CPI (Maoist) welcomed a number of activists and journalists into the guerrilla zone in Dandakaranya region of Bastar, Chhattisgarh to document the condition of life there. Gautam Navlakha's Days and Nights in the Heartland of Rebellion (2012), Rahul Pandita's Hello Bastar: The untold story of India's Maoist Movement (2011), Subhrashu Choudhary's Let's Call Him Vasu (2012), and Arundhati Roy's Broken Republic (2011) are some of the works worth mentioning in this regard. These works generated a lot of enthusiasm in the media but made the common mistake of depicting the Maoists as some sort of Robinhood army.
The Maoist movement in India has always been an area of interest for sociologists and anthropologists. In recent past, extraordinary research work has been published by scholars studying this field, with analyses based on empirical work involving the oppressed communities who have become a part of the Maoist fold. Alpa Shah and Judith Pettigrew's Windows into a Revolution: Ethnographies of Maoism in India and Nepal (2012), Nandini Sundar's The Burning Forest (2016) and Alpa Shah's Night March: Among India's Revolutionary Guerrillas (2018) are some of the major works representing this category. While these works provide interesting interpretations of Maoist organizations, they suffer from a major flaw - the interpretations are presented as objective truth.
This is not to suggest that constructivist line is altogether missing from the field of Maoist research. There exist a good number of scholars, usually clubbed together as critical LWE scholars, who suggest that LWE is not just a brute fact but has several socio-economic-political factors playing into it. Bidyut Chakrabarty and Rajat Kumar Kujur's Maoism in India: Reincarnation of Ultra-Left Wing Extremism in the Twenty-First Century (2010), Nirmalagnshu Mukherji's The Maoists in India: Tribals Under Siege (2012),Santosh Paul's The Maoist Movement in India: Perspectives and Counter Perspectives (2013), P. C. Joshi's Naxalism At a Glance (2013) and Naxalism: How to Cope With (2014), Santosh Mehrotra's Countering Naxalism with Development: Challenges of Social Justice and State Security (2014), Neera Chandoke's  Democracy and Revolutionary Politics (2015), and Manoranjan Mohanty's  Red and Green: Five Decades of the Indian Maoist Movement(2015) are some of works that fall within this category. Nevertheless, critical LWE studies remain preoccupied with primary sources and the Maoist actor.
Although all the above-mentioned issues about LWE research appear to be natural outcomes, it may be argued that a different approach can prove to be more fruitful for present-day LWE research. Perhaps time has come for a paradigm shift on perspective in this field – from an actor-centered to a discourse-centered perspective. There is an urgent need to develop a discourse approach in order to break away from stereotypes and emphasize the crucial role of metaphors in the making of reality. It is a common belief that knowledge about Maoists, their leaders or groups means knowledge about Maoism, when in fact, Maoist research needs to focus on the discourse which constitutes the Maoist actor's actions. Arguably, LWE discourse revolves mostly around themes of victimization which ignite the struggle campaigns; themes of degeneration which lead to sectarian politics among Maoist groups; themes of redemption which generate guilt in thought reform campaigns; themes of emancipation which raise euphoria in social transformation campaigns; and themes of reconciliation which bridge the gap between the government and the governed. LWE can only be understood through the lens of LWE discourse. Therefore, instead of asking what Maoism is like (what structures, strategies, and motivations it has), we need to question how it is constituted in discourse.