Commentaries
Politicization of the Military and 2019 General Elections
March 18, 2019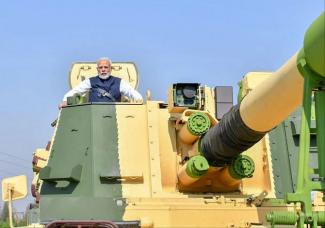 Three primary reasons propel this unease calm: a) cross-border firing or shelling along the border with search and combings by the Indian security forces within J&K continue, which can lead to unpleasant situation, if ill-managed by either state; b) although planned strikes – air, land or naval – from either side  seem to have taken a break (it may be noted that both sides appear to have their main and contingency plans ready and are in high alert), another misadventure from non-state terror groups cannot be ruled out leading to bigger employment of military assets and resources for larger operations; and c) last but not the least, rhetoric or propaganda in such a highly charged atmosphere can also get out of hand, if not managed with prudence.
Amid these tense situations, the Indian Election Commission (ECI) announced, on 10th March, dates for the next general elections, starting from 11th April till 19th May 2019 through seven phases, with the final counting on 23rd May 2019, which would decide fate of 543 members of the Lower House of the Indian Parliament.
As India goes to polls in a few weeks time from now, it is but obvious that 'national security' will be a major electoral issue, with the ruling regime engaged in muscular and nationalist braggadocio, while the opposition striving to dilute the high pitched emotion with an eye on respective political outcomes.
Two intricately intertwined assumptions typify such a scenario: a) can 'national security' be divorced from national politics, and if not, does it mean the commencement of politicization of the military after Balakot (although issues like one rank one pay (OROP) or selection of Chiefs of armed services where traditions have some times been challenged by political authorities in the past, or even examples like sacking of a Navy Chief by the government, point to overt or covert politicization) in India; and b) can deployment of national security issues bring in political dividends for contesting parties?
Narrative building processes suggest that national security issues, primarily flagged through recent non-state (fidayeen attacks), so-called non-military precision strikes (Balakot) and overt engagement of aerial combat between air forces of two countries, have already begun to take shape with claims and doubts from respective political spectrums. Consider these political dogfights: a) while Prime Minister Modi claimed that it was not India who publicized the incident, but it was Pakistan who cried at 5.00 AM on 26th February; to which the opposition cried foul; and b) the ruling regime, along with top military commanders (like the Chief of Air Staff ACM Dhanoa) tried to justify that it is not necessary to put numbers and quantum of damage that India has inflicted on the enemy (with additional claims coming from Home Minister Rajnath Singh that India had conducted three strikes, one of which he refused to reveal), while the Rajasthan CM Ashok Gehlot claimed that UPA regime had conducted 15 strikes, which were kept away from the public.
Dogfight, an Air Force favourite jargon, has not only entered into the political lexicon of late but also into the mainstream intellectual debate. Consider these: a) Swapan Dasgupta argues that Balakot operations have led to nourishment of 'Woke Culture' (borrowing the concept from Andrew Doyle, who explains the culture as consisting of people, who are arrogant and narcissistic and hence intolerant of opposite views) in India, while retired generals like Lt Gen H S Panag, Lt Gen Vikram Singh and others warn of increasing politicization of the military (Gen Panag even suggests that politicization of the military could lure the military take a front seat in national politics); and b) Sashi Sekhar Vempati, a technocrat-turned-bureaucrat at the helm of affairs at Prasar Bharti, argues that Balakot operation validates 'New India's' strategic doctrine that has breached the antediluvian 'Overton Window' (the term coined by political scientist Joseph Overton, who argues that 'an idea's political viability depends mainly on whether it falls within a range acceptable to the public, rather than on politicians' individual preferences'), while arguments emanating from military thinkers and scholars like Srinath Raghavan point to the opposite by arguing that muscular display of politics must be avoided, to say the least, during election times.
While political dogfight continues, the second assumption as to whether politicization of the military will entail political dividends sounds tempting, pointing to possible limited impacts. Historical analyses by political analysts and others suggest national security issues seldom impact considerable electoral verdicts. Journalist-turned-investment banker-turned keen political watcher Ruchir Sharma, who has covered almost all national and state elections in the last two decades (coinciding with the ubiquitous paths of Indian politics from the absolute majority to fragile coalition governments), hints of an unpredictable outcome in 2019.
Mired within the euphoric rhetoric of muscular-militaristic actions denoting a 'New India' on the one hand, and existential / survivalist necessities of the masses, India will go to polls.
A politicized military, otherwise constructed as 'robustly professional', 'avowedly apolitical' and theoretically / technically 'under civilian control', will be the first fall guy in current Indian politics. How the state appropriates the role of the military under new India and how the latter responds remain to be seen.
NOTE: A similar version of this commentary was published in CNBC-TV18, March 15, 2019