Commentaries
Twitter Diplomacy: Trump-Kim meeting at DMZ
July 04, 2019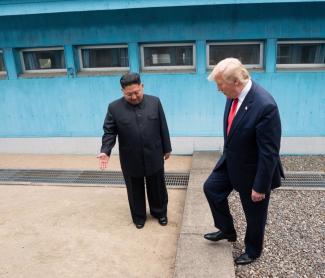 In a surprise turn in world diplomacy, US President Donald Trump managed to pull a successful meeting with North Korea's Chairman Kim Jong Un within a short notice of just 24 hours. Actually, Trump was to be on an official visit only to South Korea. This visit was planned in such a fashion that immediately after finishing the G20 summit in Osaka, Japan, he would travel to South Korea (29 & 30 Jun 2019). During this time, Trump was scheduled to visit the line dividing North and South Korean territory in the Demilitarized Zone (DMZ). This buffer zone between these two states has been in existence since 1953. While traveling to South Korea from Japan, Trump impulsively tweeted that he would like to meet Chairman Kim at the DMZ just to exchange pleasantries and a handshake.
Trump admitted later that he had put himself in a sort of a trap. Had his request on a social media platform been ignored by Kim, Trump would have cut a very sorry figure globally. However, to his luck, Chairman Kim responded positively and both the leaders did meet at the DMZ. Just before proceeding towards the DMZ, Trump had told reporters that he expects the meeting to last just about four minutes, however, the meeting went on for almost an hour. The meeting took place in the South Korean side of the border and  Trump did walk 20 steps in to North Korean territory, thus making him the first serving US President to visit North Korea!
There has been a lot of media focus on this formal meeting arranged via an informal request. Many are calling this a self-glorifying stunt carried out with an eye on 2020 presidential elections. Also, it has been argued that such a photo opportunity is not likely to serve any political purpose. There is also the view that claims this to be a careless act, one that could lead to the squandering of American influence in the Korean peninsula. In addition, there is a possibility that since Trump is not able to prevail over Iran and is unable to find a way out, he is possibly trying to divert the global attention by demonstrating some logical positivism in his approach in the Korean theatre.
The problem with Trump is that owing to his total disdain for the press, the media too never leaves any opportunity to vilify him. However, it is important to look at the North Korea issue with much rationality. Just two to three years back, the situation was very grim with some signs of a possible nuclear holocaust. But Trump did succeed in avoiding such a  conflict. He did not achieve much success with North Korea, but at the same time, his policy of engagement ensured stopping warmongering and further nuclear and long-range missile testing.
Trump's engagement policy began in June 2018 in Singapore. This historic summit brought the US President and the North Korean Chairman face-to-face to discuss challenges facing them. A joint statement was also issued stating their keenness to improve relations and work on peacebuilding. It was a good beginning, even though it lacked in substance. This was almost immediately followed by a summit at Hanoi, Vietnam during Feb 2019. However, this meeting ended abruptly. There is no clarity about what went amiss. The US argues that Kim wanted complete sanctions relief for dismantling the main nuclear complex at Yongbyon, but Pyongyang claims that it had only demanded partial sanctions relief. For last four to five months, it appeared that such talks were not likely in the near future. Also, on May 04, 2019, North Korea had tested several short-range projectiles while on May 09, 2019, it tested two short-range ballistic missiles. This indicated that slowly the region could get back to the earlier phase of the strategic disorder. It is important to analyse Trump's handshake of diplomacy at the backdrop of these realities.
It is very easy to brush off Trump's act as a 'Reality TV Foreign Policy gimmick'. However, it is important to note that he appears to have succeeded in keeping the process of engagement alive. At present, there is a clear difference in approach amongst both the states: North Korea wants restoration of peace followed by step-by-step denuclearisation, while the US wants total denuclearisation first which could be followed by peace. Today, Trump is ready to take a chance with North Korea based on his personal 'chemistry' with Kim. However, his administration is very clear in its approach to North Korea. Learning from history is important to Trump administration. Both Kim's father and grandfather have gone back on their words in the past, hence there is a policy predicament that the US administration would not allow Trump to take any chance with Kim. The US administration is demanding complete and verifiable denuclearisation. For North Korea, nuclear weapon is a golden goose for which the country has slogged for 66 years. Kim understands very well that his country's power and relevance would remain intact until it has these weapons.
President Trump realises that finding an immediate solution to this impasses is not possible, hence after his recent meeting with Kim at DMZ he has categorically stated that 'speed is not the object'. Probably, North Korea is the only case where Trump is taking his vision beyond 'commerce and profits' and he should be credited for that without any biases.