Commentaries
'Urban and Peri-Urban Sustainability' Agenda in Election Manifestos
April 17, 2019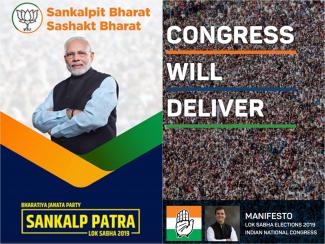 Environment has never been a popular subject for India's major political parties during general elections. Even in the post-1972 UN Conference on Human and Environment period or post-1992 Earth Summit scenario when environment emerged as a strong international and national issue, seldom has environment found an appropriate space in party manifestos in India. At the outset, environment as an issue in the election campaign is still considered a matter of concern for upper strata of societies only. However, the absence of promises to tackle environmental challenges in the election manifestos has not deterred the voters from casting their ballots to elect their representatives to the Lower House of the Parliament. On the other hand, successive governments at the Centre have neither shied away from making relevant policies on environment. But whether the government policies (absent in party manifestos) on environmental issues have addressed the root causes of environmental degradation is debatable.
Fortunately, with the incumbent government's aggressive developmental drive in the last five years, environmental concerns are now featured, though not in detail, in manifestos of national and regional parties. Unfortunately, it is the only breaking news or big news in this election so far though it may not entice popular votes. Going by the ever deteriorating quality of life caused by degradation of environment fuelled by vanishing trees and forests, water depletion, pollution and lack of solid waste management and sewerage system combined with vagaries of climate change in urban and peri-urban areas, it is high time that the voters demand proper environmental sustainability agenda from national, regional and local parties.  Undoubtedly, the rural distress in India needs sustained attention with or without manifestos. However, political parties must be critically evaluated on their proposals/pledges on urban and peri-urban sustainability during election times. 
The cities and towns are engines of growth. While the population in the megacities (50 lakhs plus) has remained constant over the years, the number of smaller urban and town clusters has been increasing rapidly in India. Some 34 percent of India's population now lives in urban areas, a three percent increase since the 2011 Census, which will technically elect one-third of the Members of Parliament in the Lower House this election. According to the U.N. World Urbanization Prospects 2018, India is expected to add 400 million people in urban areas by 2050. Acknowledging India's developmental triple fronts - demography, climate change and sustainability – especially in urban centers in the coming decades, party manifestos should have contained a fair share of pledges on urban and peri-urban challenges. Unplanned transformation of rural hinterlands into peri-urban ones as outward expansion of megacities and other smaller cities is raising vital questions of survival and liveability.
Taking a lead from Prime Minister's Sankalp Patra, the Bharatiya Janata Party (BJP) 2019 manifesto reads, "[T]ogether, let us work towards building a strong and inclusive India, whose citizens are assured of dignity, prosperity, security and opportunity" that indicates resilient communities. Similarly, the Indian National Congress (INC) manifesto appeals to citizens by stating, "Let us rebuild India. Together, let us get India moving again". Are the 'us' and 'we' comprises of the urban poor, safe and secure from climate change induced disasters or extreme weathers? Are communities resilient to climate change and disaster impacts? Are peri-urban regions that also adversely affected by climate change, which provide basic food, water, and energy to sustain cities and megacities and used as cities dump yard, being left in the lurch of governance scope?
Peri-urban or hinterland is key to sustaining cities and beyond from climate change induced anomalies if it's planned and governed well. Both megacities and tier two cities, which are already under SMART cities categories, have been facing daunting challenges of simultaneous floods and water scarcity; cyclones, sea level rise, storm surge in coastal towns and cities; heat wave, air pollution, spreading of dengue and other diseases, among others. Therefore, national security, which has been riddled with ambiguity as a concept, should be expanded beyond and not limited to only securing our borders by including and prioritizing conditions for freedom from want, freedom from fear and freedom of live with dignity -- the core underpinning approaches to provide human security.
While global agreements, declarations, and pledges are being customized into national development planning, arguably, the manifestos must distinctly provide its implementation pathways.  The Sustainable Development Goals (SDGs) 2030, Sendai Framework (2015-30), Paris Climate Change Agreement and Urban Agenda, should be reflected in national parties' manifestos. While comparing the party manifestos of both INC and BJP through a discursive approach, it seems that while BJP's manifesto has touched upon a limited section of urbanization process, the INC fairs much better as it has included SDGs, Sendai Framework and Urban Agenda holistically in its urban pledges.
Despite national security being shown as its highest priority, the BJP manifesto has mentioned the word 'urban' 17 times, thereby emphasizing continuation of its flagship program 'Swachh Bharat Mission' through sustainable Solid Waste Management (SWM) in every village as well as ensuring total disposal of liquid waste management and reuse of waste water in rural and peri-urban areas. Banking on the development of infrastructure and connectivity since NDA-1, the BJP will continue to develop suburban townships and new urban centers with help of five newly set up regional urban think tanks. This might directly clash with the mandate of the Town and Country Planning Organizations (TCPOs) in States, which is a statutory body that has the mandate for urban planning. As Urban Mobility Mission takes centre stage, it is to be seen how the government will address several pressing environment issues relating to energy, pollution, emissions and healthy lifestyle in urban areas.
However, major concerns of the urban poor, vulnerable groups and slums are not mentioned in the BJP manifesto. While climate change is mentioned twice in BJP's manifesto against seven times in INC, there is no vision for building resilient cities and urban habitats' resilience to climate change and disasters. BJP could have focused on what it has already implemented in its present tenure in making cities resilient and its future course of action. Although environment and forest have got some visibility with the environment being mentioned six times in the BJP's manifesto, formulation of an urban and peri-urban forest policy to bring the trees and protected forests in and around cities to address climate change impacts is missing. 
With 15 hits of the word 'urban' in its manifesto, the INC has promised to formulate a comprehensive urban policy. Its manifesto states that urban policies shall be reviewed through comprehensive and wider consultations. The manifesto talks about people's governance in towns and cities by ensuring real devolution of power, functions and funds to urban local bodies by enforcing the 74th Amendment. The question as to why the devolution of power did not occur prior to 2014 must be asked to INC during this election.
The manifesto also highlights, under urban governance, that livelihoods, housing, habitat, pollution, climate change, urban transport and disaster management would be integrated in administering and managing cities and towns. With directly elected mayors for fixed term, the manifesto also introduces a new model -- an elected Council and a separate administrative structure with multi-disciplinary teams for urban planning and to implement municipal works. While INC promises to extend support to States on urban governance, BJP's manifesto creates parallel regional institutions like urban think tanks, which has the potential to dismantle federal features. What is pledged in BJP manifesto notwithstanding, one that seems to be hurriedly written, the present government has always extended guidance, support and direction to States for improving urban governance, including a strong push for integrating climate change and disaster management in to city planning.  
As slum upgradation and transformation schemes are on high agenda of INC manifesto, ensuring basic services such as drinking water, electricity and sanitation to slum dwellers are the major promises. Right to housing for the urban poor and more urgent protection from arbitrary eviction is an advantage point in INC manifesto. Bringing a policy on urban forest, like in BJP, though the word 'environment' occurs 13 times in manifesto, is missing. However, the promise to review existing disaster policies and the works of the agencies concerned is a welcome step in INC manifesto. 
On the larger discussion on environment, it is clear that the INC assertively wants to send a message that prior to PM Modi, it was Indira Gandhi who took the lead on environmental management in India. On the other hand, the BJP's manifesto could certainly have been better at least by indicating the SDGs as PM Modi took lead in stitching together two global agreements on SDGs and climate change in 2015. The arch rival – INC - in its manifesto 'Congress Will Deliver' has gained a notch above BJP in detailing the pledges with proper messaging. Perhaps, one is a product of broad consultative processes, another is a by-product of inputs as stated by respective manifestos. The larger difference lies in consultative versus feedback approach in preparing manifesto.