Commentaries
What should be Outer Space Agenda for Modi 2.0?
June 04, 2019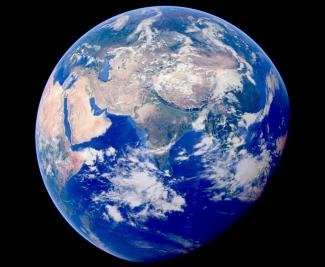 India's story of growth is directly related to the development of technology. If Modi 2.0 is keen to find long-term solutions to ensure growth, then it has no option than to make investments in technologies. One important area of technology where much is expected from Mr Modi is the outer space. He has raised much expectation since his first term as he took a keen interest in the activities of Indian Space Research Organisation (ISRO). During the fag end of his first term, Mr Modi laid stress on India's fore in to the outer space towards becoming a Space Power by announcing the successful conduct of anti-satellite test (ASAT) on 27 March 2019.
The ASAT test was about India's military space policy while the launch of South Asia Satellite (GSAT-9) during 2017 was for successful use of space technology to achieve India's foreign policy objectives. India has famously created a world record in February 2017 by launching 104 satellites in a single launch. This did attract global attention and has assisted in establishing ISRO as the most favoured agency for launching small satellites, commercially. From April 2015 to March 2018 — ISRO, through its commercial arm Antrix Corporation Limited, has earned Rs 5,600 crore from marketing products and services, including launching of satellites for foreign customers.
In June 2017 and November 2018, ISRO successfully undertook the first and second developmental flights of GSLV Mk III. India took a significant amount of time for developing cryogenic engine technology, which is at the heart of its heavy satellite (4 to 6 tons) vehicle programme. India would not be required to depend on outside agencies for launching its heavy commutations satellites now. Broadly speaking, ISRO's space programme is developing on the right track. It received good political patronage during Modi 1.0. ISRO has some major plans for the coming few years. It is developing a new small satellite launch vehicle, there are missions planned for the Moon and the Sun, and there could be a human space mission as well.
Needless to say that ISRO has received much recognition in India and abroad for its extraordinary works. However, there are a few challenges which the new government needs to address upfront. There are two areas which lack clarity of approach. One is India's planetary programme and the other is the proposed human mission.
India's second mission to Moon is expected to be launched in  July 2019. India's first Moon mission took place during Oct/Nov 2008. The second mission has got delayed because initially Russia was to be a partner in this mission and there was a significant amount of dependence on that country for the mission. In spite of this, more than one decade of time-gap between launching of two missions is unhealthy. Same is the case with Mars mission: the first mission took place in 2014 and there is no clarity about when the second mission will commence. Now, ISRO is proposing a mission to Venus as well. The question that arises is: , Is ISRO not spreading too thin? Also, why is it not taking the Moon and Mars agenda to a logical conclusion first before investing in to new missions?
Today, global agencies, including private players, have already announced their timelines for taking humans to Moon and Mars. But in India, there is yet no clarity about the second mission. Countries like the US, Russia and China plan their next four to five missions even before starting the first. This is required and essential to meet the final objective. It is important to note that planetary agendas can't be one mission agendas. These programmes have to be meticulously planned for the coming few decades. Essentially, missions to Moon and Mars are not only scientific missions but are also about the race for planetary resources. Unfortunately, ISRO has not planned for any missions to asteroids yet, an ideal bed for mineral mining.
Similarly, there is no clarity about India's proposed human space programme. All we know is that by 2021/22, India would launch its own astronauts to space at an altitude of around 400 km above the Earth's surface. There is a danger that this programme may end up only as a 'feel-good programme'. India should not invest in the human space programme only with eyes on the celebration of 75 years of independence. If humans are to be taken to space, we need to have a long-term agenda for human space mission. Such programmes cannot be one step at a time programmes. There is a need to think big, plan big and invest big. India needs to build its own 'Space Station,' otherwise investing in the human space programme is meaningless.
Investing in space is costly and results come only after few years. Today's success of ISRO is the result of hard work since 1970s onwards. If Modi 2.0 has to establish its legacy in space, then the investments cannot be only for a period of coming five years. There is a pressing need to plan at least for coming two decades. There also has to be a clearer articulation of India's space policy and programmes for the future with commitments of reasonable timeline.
NOTE:
The author has made somewhat similar argument in the comment titled "Future of space programme: Why India needs to build its own space station", Financial Express, May 27, 2019