News / Event
November 02, 2022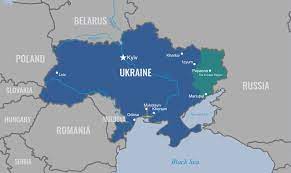 Russian and separatist media claim that Ukrainian military have used white phosphorus munitions, weapons that are banned under the Geneva Convention. However, the mine fragments they have shown as evidence are of a different type of munition.
On February 19 the Donetsk television station Union reported in its newscast that near the city of Horlivka, some 56 kilometres north of the eastern Ukrainian city Donetsk, the center of the self-proclaimed Donetsk People's Republic (DPR,  the Ukrainian side had fired white phosphorus bombs on the Russian supported militants.
A sturdy set man dressed in camouflage speaks to the camera and announces that the Ukrainian side is firing ever more frequently on the separatist militants without any reason, and is even using munitions banned by the Geneva Convention. The man then points to a series of neatly arranged mortar shells and pieces of shrapnel and holds one up as an example of the alleged white phosphorous munition that was fired by the Ukrainian military and declares that such a munition reaches a temperature of 900 degrees upon explosion.
According to military expert Oleksiy Zinchenko, the shrapnel pieces displayed on the Union TV news story are D-832-DU smoke bombs, the body of which is filled with a smoke generating substance that does actually contain phosphorus. Such smoke bombs are used to provide smokescreens and the phosphorus they contain is not white phosphorus. These smoke bombs are not prohibited by any conventions, says Zinchenko.
To read the complete story, See, "Fake: Ukrainian Military Use Prohibited Weapons in Donbas", STOP FAKE, February 21, 2021