Research Papers
WHO's Pandemic Treaty and Global Health Governance: Opportunities and Challenges for India
September 26, 2023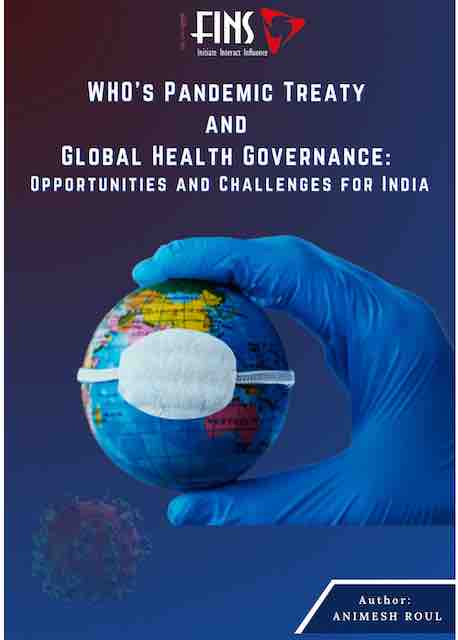 ABSTRACT: This policy paper offers an in-depth study of the ongoing negotiations for the Pandemic Treaty. The treaty has been proposed as a strategic response to manage global health crises in the post-COVID-19 era and is being developed under the World Health Organization's (WHO) purview. The paper is segmented into five parts: Part I recounts the inception and evolution of the Pandemic Treaty negotiations within the WHO's framework. It summarises the proposed treaty's objectives and major provisions currently under negotiation. Additionally, it assesses the treaty's potential impact on global health governance. In Part II, the paper delves into the ongoing discussions surrounding key provisions, challenges, and criticisms of the draft pandemic treaty. The primary focus is on issues related to state competition, equity, geopolitical divisions, and, notably, concerns related to national sovereignty. Part III focuses on India's role and involvement in Global Health Governance, particularly its participation and contributions towards the Pandemic Treaty negotiations within the WHO's structure. Part IV discusses opportunities and challenges for India, primarily assessing the prevalent conversations surrounding the pandemic treaty within various circles such as the government, civil society, industry and the expert community. Part V offers recommendations for India to seize opportunities by advocating for national interests in treaty negotiations and implementation, which would eventually enhance India's stature in global health governance and decision-making.
The overarching argument put forth in this policy paper is that India should engage and advocate for the development of a new international instrument for Pandemic prevention. However, it should do so without undermining its national interests and sovereignty. Furthermore, it should support and take necessary steps to enhance or modify the existing global health regulations, such as IHR and within the new treaty framework.
Source:  "WHO's Pandemic Treaty and Global Health Governance: Opportunities and Challenges for India", Septmebr 02, 20223, Forum for Integrated National Security (FINS), Mumbai, India.  FINS is an apolitical think tank focused on integrated national security studies.