Issue Brief
Comments on ISRO's Draft National Space Transportation Policy-2020
July 12, 2021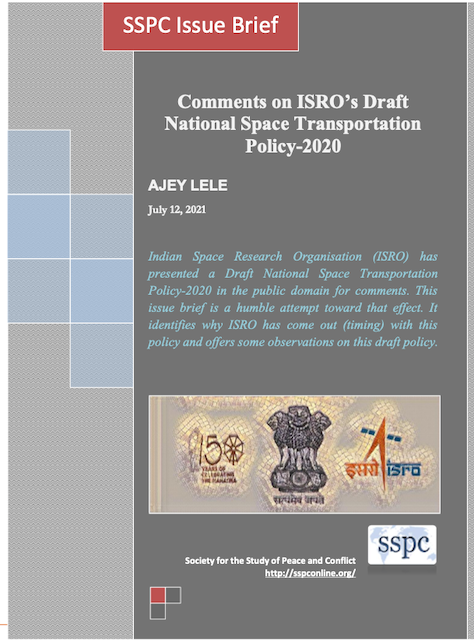 Indian Space Research Organisation (ISRO) has presented a Draft National Space Transportation Policy-2020 in the public domain for comments. This issue brief is a humble attempt toward that effect. It identifies why ISRO has come out (timing) with this policy and offers some observations on this draft policy.
INTRODUCTION
Indian Space Research Organisation (ISRO) has put its Draft National Space Transportation Policy-2020 in the public domain and is keen to have comments on the draft policy by July 21, 2021. Bringing reforms in the space sector has been ISRO's/GoI's priority for a long. Essentially, since the inspection of ISRO private sector has been associates with ISRO in some form or other. For more than a couple of decades, there has been a significant contribution by the private sector in various missions undertaken by ISRO. On occasions, this contribution has even exceeded more than 70%. It is also important to note that Hindustan Aeronautics Limited (HAL) plays a vital role in developing various satellite systems.
It is a crucial document that has been very thoughtfully prepared by ISRO, presenting various guidelines for the space sector regarding space transportation systems. Such systems comprise multiple classes of launch vehicles, provide secure and reliable access to space for building space infrastructure. As per ISRO, Indian space transportation systems also enable the commercial exploitation of increasing opportunities for launch services and human spaceflight to near-earth orbit & robotic space exploration. 
Ajey Lele (Ph.D) is Senior Fellow in the Manohar Parrikar Institute for Defence Studies and Analyses and heads its Centre on Strategic Technologies. He started his professional career as an officer in the Indian Air Force in 1987 and took early retirement as 'Group Captain' from the service to pursue his academic interests. He has a Masters degree in Physics from Pune University, and Masters and MPhil degrees in Defence and Strategic Studies from Madras University. He has done his Doctorate from the School of International Studies, Jawaharlal Nehru University (JNU), New Delhi. His specific areas of research include issues related to Weapons of Mass Destruction (WMD), Space Security and Strategic Technologies.