Research Papers
Non-Lethal Weapons: A Viable Option for Crowd Control in India
March 2014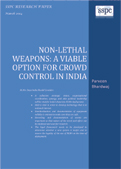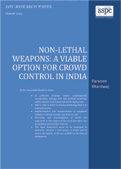 NLWs: Steps India Should Consider:
A collective strategic vision, organizational coordination, synergy, and able political leadership will be vital for India's futuristic NLWs deployment.
R&D is vital in order to develop technology that is in national interest.
Standardization and documentation of equipment validity is eminent to make sure they are safe.
Recording and documentation of events are important so that nature of the event and effect can be analyzed and used for research.
The legal framework needs to be developed to determine whether a new system is lawful and to ensure the legality of the use of NLWs at the time of deployment.