Research Papers
Plague Outbreaks in India: Surat and Himachal Pradesh
December 2003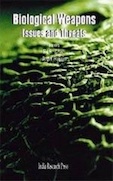 Within a gap of eight years, the plague has struck twice in India. The outbreaks caused panic and necessitated an urgent assessment of our public health apparatus vis-a-vis our vulnerability towards infectious diseases. Generally speaking, the resurgence of epidemics and their effects on society demonstrated at least three vital national security issues. They are human mobility (cross-border and intra- border movements), transparency, and tensions between states, (which includes the threat of biological warfare). The re-emergence of plague in India in 1994 (Surat) and in 2002 (Himachal Pradesh) invokes these issues and calls for national and international discourse on disease control. Whether it was caused by intra-state tensions (biological war) or due to a natural phenomenon is still debatable, especially in the case of Surat. However, the plague which ravaged the Diamond City of Surat and scenic hamlets in Shimla affected the economic and political activity in the country, but also posed a serious threat to our national security.
The paper was originally published in Chari, P.R & Rajain, A (2003), Biological Weapons; Issues and Threats, India Research Press, New Delhi.

Book Chapter: "Plague Outbreaks in India: Surat and Himachal Pradesh" (Compressed PDF version updated on April 3, 2020).