CBRN Digest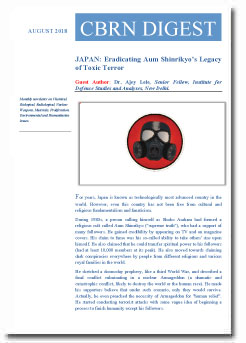 Monthly newsletter on Chemical, Biological, Radiological, Nuclear Weapons, Materials, Proliferation, Environmental and Humanitarian issues.
Current Issue: August 2018 [PDF | DOCX]
Contents
Brief: JAPAN: Eradicating AumShinrikyo'sLegacy of Toxic Terror
CBRN News Update
CHEMICAL
Chemical weapons agency finds 'chlorinated' chemicals in Syria's Douma
OPCW Issues Fact-Finding Mission Reports on Chemical Weapons Use Allegations in Douma, Syria in 2018 and in Al-Hamadaniya and Karm Al-Tarrab in 2016
US, France Sanction Entities Tied to Syrian Chemical Weapons
BIOLOGICAL
Cologne ricin plotters bought a hamster to test biological weapon
NUCLEAR
Russia releases videos hyping its new hypersonic weapons just days after Putin and Trump meet
Nobuo Tanaka, Former-IEA official: Nuclear power can't compete with solar power
North Korea is continuing to produce nuclear bomb fuel: Mike Pompeo
NON-PROLIFERATION
UN Chief Marks 50 Years Since NPT Signing
Previous Issues
January 2018 [PDF | DOCX]
Contents
Brief: Islamic State's Tryst with Chemical Weapons in Syria and Iraq
CBRN News Update
CHEMICAL
Fighting Impunity: International Partnership against Impunity for the Use of Chemical Weapons
Russia Rejects U.S. Criticism On Syrian Chemical Weapons
Rescuers in rebel-held Syrian area accuse government of gas attack
BIOLOGICAL
Nairobi forum discusses combating biological weapon attacks
NUCLEAR
China needs more nuclear warheads to deter US threat, military says
Kissinger, Shultz Warn of Rising Nuclear Perils
NON-PROLIFERATION
India Enters Australia Group
April 2015 [PDF]
Contents
Brief: Chernobyl Disaster: 29 Years and Counting
History Snippet: Horrors of Ypres
CBRN News:
JAPAN/CANADA: "Trace Amounts of Fukushima Radiation Turn Up in Canada", LiveScience.com /Yahoo.com, April 08, 2015.
SYRIA/OPCW: "Chemical weapons watchdog analyzes alleged chlorine attack in Idlib, Syria", Daily Sabah, April 10, 2015. 

SRI LANKA: "Sri Lanka Assures CWC Support", Sunday Leader, April 19, 2015.
UNITED NATION: "Ban Ki Moon urges ridding the world of chemical weapons 'once and for all' on 100th anniversary of their first use", UN News Center, April 21, 2015.
USA: "780,000 chemical weapons being destroyed in Colorado", USA Today, April 25, 2015. 

INDIA/POKHRAN: Excerpts: "Radiation Hazard, The People Of The Fallout", Outlook India, April 27, 2015. 

THE HAGUE/OPCW: "OPCW Commemorates Day of Remembrance for All Victims of Chemical Warfare", OPCW, April 29, 2015. 

March 2015 [DOCX | PDF]
Contents
Brief: Chlorine in Sarmin: Specter of Chemical Warfare in Syria
Pages of History: Bravo in Bikini: Fallout of Largest H-Bomb Test
CBRN News:
UN News Center, March 26, 2015: "We must remain vigilant,' Ban urges as Biological Weapons Convention turns 40".
Reuters March 26, 2015: "Chemical weapons body (OPCW) to investigate allegations of chlorine gas attacks in Syrian villages".
AFP / Times of India, March 23, 2015: "Hit by Nuclear weapon testing, Bikini Islanders seek refuge in US".
Reuters, March 21, 2015: "North Korea says can fire nuclear missile at any time".
VoA News, April 01, 2015: "N. Korean Envoy: Nuclear Weapons Not Negotiable".
The National (UAE) March 20, 2015: "Former IAEA chief hopes for nuclear weapon-free Middle East".
Nation (Lahore), March 25, 2015: "Pakistan's tactical nukes to deter India: Khalid Kidwai".
The News (Warsaw), March 10, 2015: "Stolen radioactive cobalt still at large".
Wall Street Journal, March 27, 2015: "Iran Keeps Its Nuclear Secrets".