Commentaries
Novichok and Murkier Case of Navalny Poisoning: Is Russia Flouting Chemical Weapon Convention Obligations?
December 16, 2021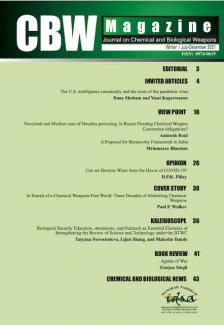 Alexei Navalny, the Russian pro-democratic opposition figure and anti-corruption activist, wrote in an August 2021 article that "[I] did not die from poisoning by a chemical weapon, and it would seem that corruption played no small part in my survival." Fortunately, he lives to tell this ordeal. Navalny was recollecting the assassination attempt on his life exactly a year back, with a suspected nerve agent. On August 20, 2020, Navalny was grievously ill onboard a flight from Tomsk (Siberia) to Moscow. He was taken to a city hospital midway in Omsk for treatment after the flight made an emergency landing. A couple of days later he was shifted to Berlin's (Germany) Charite University hospital for treatment. He eventually recovered and survived the ordeal.
Novichok Again
Novichok agents, also known as fourth-generation agents (FGA), are a class of nerve agents developed by the Soviet Union during the Cold War. These nerve agents emerged as a significant chemical weapon threat due to their use in the attempted assassination recently.
In the Navalny poisoning case, a toxicology test at a specialist military laboratory in Germany revealed the presence of a substance from the group of cholinesterase inhibitors (e.g. Novichok nerve agent).4 Subsequent laboratory sample tests in France and Sweden confirmed that Navalny was poisoned with this Soviet-era nerve agent. The Organisation for the Prohibition of Chemical Weapons (OPCW), through its designated laboratories too confirmed that the biomarkers of the cholinesterase inhibitor found in Navalny's blood and urine samples have similar structural characteristics as the toxic chemicals belonging to schedules 1-A.14 and 1-A.15, added to the Annex on Chemicals in November 2019.
Following the confirmation of Novichok poisoning, German Chancellor Angela Merkel in early September 2021 termed the event as 'shocking' and underscored Navalny was "the victim of a crime intended to silence him." She directly pointed at the Russian government, saying that the poisoning case raises "very serious questions that only the Russian government can answer and the world will wait for an answer."
Read Full Text Here: CBW Magazine, Winter, July-December 2021, MP-IDSA, New Delhi

Novichok and Murkier Case of Navalny Poisoning: Is Russia Flouting Chemical Weapon Convention Obligations?