Commentaries
The Bear Trap and Beyond: Putin, West and Ukrainian Crisis
April 19, 2022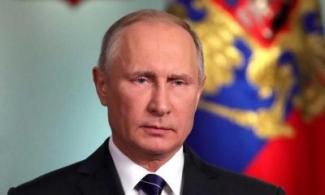 More than Putin, it is the mismanagement of West-led order that is to be blamed for the Ukrainian crisis
As Ukraine has been holding its nerve for more than a month now, opinions among intellectuals and influencers emerging from various parts of the world have sharpened along pro-West and pro-Russian lines with each passing day. The former has been dominating the perception sphere more than the latter for the very simple reason that deep fakes now rule over ground realities.   Deep fakes are designed to blind rational assumptions than conforming to reality – existing or otherwise. This may not decisively influence strategies adopted by involved or observant states and their decision-makers but certainly can influence the minds of the global citizenry with undesirable consequences. With the latest development in the Baltic Sea, where a claimed Ukrainian missile drowned the Russian flagship cruiser Moskva, opinions have further sharpened, with even the Russian television channels asserting that this, along with Finland's latest intent to join NATO would certainly lead the world toward a Third World War. This is a global cause of concern, to say the least.
The Ukrainian situation denotes four trend-based scenarios – increasing 'punitive sanctions' on Russia by the US, Europe and likeminded countries whose economic consequences are too early to be visible yet visualized in 'worst case scenario' terms; equally powerful 'dismissive attitude' by Russia that has evidently demonstrated its capacities to continue assaults despite deep fakes emerging from the US suggesting that Russian arsenal getting exhausted and its increasing dependence on China on military supply with the latest Russian warning to place nuclear-tipped submarines nor far from the costs of Finland; 'blatantly contradictory' stance taken by China (fiercely supporting Russian cause at different forums as well as sharp criticism on US stance, but promising military and material help to Ukraine at the same time and thus ready to expand its businesses wherever it smells opportunities); and 'perplexingly nuanced' approach by India through tacit support toward Russia at the UN meetings, clever maneuvering of the anti-Russian narratives through humanitarian aid, tactical maneuvers and avowed thrust on diplomatic solutions to the problem. Sharp response by Indian Foreign Minister S Jaishankar to the American pressures on oil purchases or human rights violations, or India's calculated attempts to feed the world and its aspirations to be a Vishwaguru (leader of the world). Jaishankar reacted sternly by saying that India buys fractions of oil compared to what Europe buys in an afternoon from Europe and reminds the Americans that Indians are also taking note of societal fault lines and violence in contemporary America. The beauty is that Russians are pleased, the Chinese appear apprehensive, Americans and their followers are disappointed, and India has been handling them in different ways.
Analyses emerging from Indian media, written mainly by intellectuals from wide backgrounds like academia, military, bureaucracy or diplomacy, suggest a few pointers: a) many of them argue along Western lines and indirectly accuse Russian actions, whose impacts, especially on India-Russia military trade could be problematic for India in coming times (Harsh Pant, Ajai Shukla, et al.), they argue; b) a few (C Raja Mohan, et al.) explain India's real or probable location in global affairs that appear in a reset mode in current times, thus suggesting a more proactive role in global affairs; c) still a few more, mostly retired diplomats explain in a nuanced way as to why India has abstained in all UN meetings and attribute this stance to national interest considerations (T P Srinivasan says a vote in UN appears to be aye or nay on a particular issue, but countries actually vote for themselves) and even suggest Indian diplomats to do a bit of Bharat Natyam (Rakesh Sood) to manage different contradictions; and d) last but not the least, politician-writers like Manish Tiwari suggest the evolution of a new global order propelled by autocratic powers like Russia, China and Iran with their respective proxies, which may not be good at all for the world. In sum, although different ideas have emerged about the crisis and likely course of actions leading to a more complicated global disorder, a pro-West view is still dominated in myriad forms in the Indian intellectual landscape.
One need not go far back in history to unravel the real reasons for the current crisis. The Cold War period between the late 1940s till late 1980s witnessed a bipolar world, each with substantial and matching military build-up as well as spheres of influence by the US-led West and Soviet-led non-West blocs. The real problems started when the disintegration of the USSR happened, and the Warsaw Pact disbanded subsequently. NATO should have followed suit, but it did not. Unipolar assertions by the West made it robust and expansive instead, despite pleadings from Russia, which was weaker then and so was China. Supposedly neutral countries like India pursued non-alignment but actually were influenced by the Russians, while China had been building up its national power in a low-key manner without much fanfare and biding its time to strike hard at an opportune time in future. Russia took its own time, rebuilt its economy with a still robust military prowess and waited for the right time to strike back at where it would hurt most. By 2012, Russia had started reasserting itself, which was neither appropriated nor noticed. In 2014, it captured Crimea through a swift military operation and consequently declared independence for Luhansk and Donetsk. The US and European countries should have sensed what would be coming in coming times from a wounded former superpower, but they preferred to ignore it.
A book titled "Putin's Master Plan: To Destroy Europe, Divide NATO, Restore Russian Power and Global Influence" by two American political strategists, Douglas E Schoen and Evan Roth Smith (New York: Encounter Books, 2016), provides an excellent account of the Crimean war and its future consequences for the coming world disorder that included a calculated military action in Ukraine by Putin in the near future, which has actually happened now. But for Donald Trump, who had an excellent personal equation with Putin, such a possibility did not materialize between 2016 and 2020 (Trump's threat to withdraw from NATO in 2017-18 serves as a case in point), or else the military intervention in Ukraine would have been preponed. This, among others, explains in detail blatant miscalculations and blunders made by the US and its friends to nurture a porous liberal institutional global order and clearly demonstrates how the Eagle and Europe have been completely outfoxed and trapped by the Polar Bear from the East with a Dragon waiting in the wings for future. Schoen and Smith have explained some of these points in detail.
Much to the disappointment of many Indian intellectuals, the elephant will neither be trapped by the Eagle nor be fearful of the Dragon. The Bear has hugged the elephant with much displeasure shown by the Eagle and others; and the Dragon has experienced elephantine tap dance in the high altitude of the Himalayas for close to two years. The elephant knows what it is doing: sending humanitarian aid to Ukraine, abstaining in the UN in tacit support for Russia, buying Russian oil at the lowest price, starting various modes of payment for goods trade (for example, businessmen paying in Euro via German banks for the import of rough diamonds from Russia), contemplating rupee-rouble arrangements, among others, while is in an FTA signing spree (UAE, Australia and many more in line including EU) with countries that matter. Not only India is gearing up to supply food and essential items like medicines to countries like Egypt and others, but its proactive help to Sri Lanka and others in the neighbourhood connotes India's attempts to fill voids wherever they exist or emerge. In brief, Indian preference would always be on pragmatism and national interest over liberal-institutional order complexities.