Commentaries
Calculated Strike: India's military response in the aftermath of Pulwama
February 26, 2019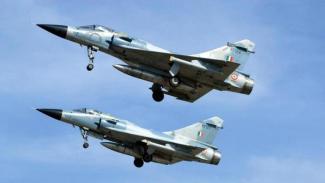 Precisely three hours after 25th February mid-night and roughly three hours before the dawn of 26th February 2019, within a span of 20 minutes, less than one Mirage squadron of about 12 fighters of IAF dropped more than 1000kgs sophisticated and high intensity bombs (presumably laser guided) at Balakot in Khyber Pakhtunkhwa (hereafter, KP) region of Pakistan.
According to Indian foreign ministry sources, the precise target was a hill top in Balakot (which is a sub-division of Manshera district of KP, away from civilian settlements) named Jaba Top, which housed the largest and most important terror base of JeM. The swift operation claimed to have destroyed the main JeM camp as well as eliminated a large number of JeM terrorists, trainers, senior commanders and group of jihadis. Indian sources claim at least 300 terrorists have been eliminated, reportedly including the prized  Yusuf Azhar (who controlled this camp), and Ibrahim Azhar (the brother-in-law and brother respectively of JeM head, Masood Azhar). The operation also targeted Mufti Azhar Khan Kashmiri, head of Kashmir operations at JeM.
This operation was termed as 'an absolutely necessary preemptive strike', primarily led by credible intelligence on JeM's future strikes within India.
As sporadic information on this strike spread like wildfire within hours in the morning of 26 February, the Indian Prime Minister presided over a crucial cabinet committee on security meeting (after being briefed by National Security Advisor Ajit Doval), after which Foreign Secretary Vijay Gokhale briefed the media on the said operation.
While India claims to have eliminated a large number of terrorists without losing a single human life of its, own, Pakistani government sources (including military)  have dismissed such claims. Pakistan Minister for Maritime Affairs Ali Haider Zaidi tweeted: 'the alleged terrorist camps in Pakistan are nothing but a figment of Modi's imagination. The only thing the IAF dropped were fuel tanks as they had to reduce the weight of their aircrafts and run back to their bases as PAF jets were about to shoot them down.' Similar dismissive statements are also coming from Pakistani military sources.
Concocted emotions and reactions in the Indian sub-continent and elsewhere must be weighed carefully in such a tense moment.
A set of four issues needs to be examined and understood before one makes a rationalized sense out of it: 1) was the reaction from India necessary?; 2) was the operation successful from all counts?; 3) is it likely to escalate to make matters worse?; and 4) what options lie ahead? These broad sets have several sub-sets of apprehensive queries within them.
First, the Indian action was necessary for three primary reasons: a) credible intelligence information of probable JeM attacks in not only J&K but also in many important cities of India was validated internally; b) terror activities did not stop after Uri despite India's diplomatic, political and economic efforts in bilateral (terror activities not only continued with the support from across the border, but also increased in quantitative terms) and multilateral terms, forcing it to exercise its limited initial first-stage military option; and c) security situations within J&K deteriorated enough to necessitate corrective measures.
Second, the operation was a success due to two primary reasons: a) it was an operation that was short in duration, swift in action, precise in hitting intended targets and entailed no collateral damage; and b) its military objectives were laid out in clear terms.
Third, chances of escalation of the situation degenerating to a limited war or full-fledged conventional war remain remote, although not fully dismissed. India has carried out this operation (hopefully, last, but possibilities of more strikes are not ruled out) in a very calculated manner. By striking at the JeM target, which is a part of KP, India has not only crossed LoC but also gone into Pakistani territory, sending a very clear message of its strategic intents and capacities. Pakistan may cry foul about the location that falls under its territory and may threaten India with a punitive response, but India has very tactfully managed to damage only key camps, persons and assets only, thereby diluting any strong Pakistani response. Indian diplomat's careful use of terms like 'intelligence-led operations' and 'pre-emptive actions' are used to dilute possible strong international diplomatic language, while the use of the term 'PoJK', not 'PoK' is intended to introduce new terms in Indian diplomacy with intangible benefits, however small it may be.
And last but not the least, options hereafter for India are not easy either. They need a combination of tactics – political, diplomatic, military, information dissemination and perception management – to achieve larger strategic objectives. Needless to mention, India must have factored all fallouts into its military operational calculus, while political implications of this must be carefully managed as well. Diplomatic efforts will be geared toward keeping the emotional temperature to a manageable level at the regional and international levels, while the biggest management challenge will come from media (including social media, which has already gone hysterical) with its larger impacts on national politics.
Next few days and weeks, at a time when national elections are round the corner, will be especially important for the Indian state and its armed forces.
Originally published in CNBC TV18 (Feb 26, 2019).