Commentaries
Cyclone Fani: Act of God in Anthropocene?
May 10, 2019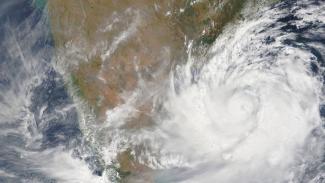 Natural disasters such as cyclones, their frequency and pace, must be directly linked to climate change.
Our generation is faintly versed with 'Hand of God' — the infamous hand goal by former Argentinian footballer Diego Maradona in THE 1986 Fifa World Cup. However, Cyclone Fani (pronounced Foni, which means the hood of a snake) termed as an 'Act of God' by an Air India official, while denying some compensation to passengers. The use of this term and its ramifications surely invite a broader discussion on climate change and the increasing pace, fury and frequency of cyclones because of it.
The said Air India official might have been responding to the stressful situation of passengers being stranded at Delhi Airport, but the broader question to be pondered here is if cyclones and similar natural phenomena are still natural or does it have a human component? Despite epistemological discord between geologists and environmentalists, the present geological age is aptly defined as 'Anthropocene'. The term was popularised by atmospheric chemist and Nobel laureate Paul Crutzen in 2000, looking at the grave human influence on the planet in terms of mass extinctions of plant and animal species, polluted oceans and altered atmosphere including climate change, among other lasting impacts, than 'Holocene'. We are in the age of humans. Thus, in the time of Anthropocene, assuming the cyclone Fani is only an act of god is a contradiction. It has a fair share of human contribution as well because climate change cannot be an act of God in this epoch.
The Earth is roughly 1.53 degree Fahrenheit warmer than it was last century and the timing, frequency and intensity of tropical cyclones are directly linked to it. According to many scientific studies, warmer oceans have intensified cyclones. Cyclone Fani is the third cyclone in 150 years to strike in the month of April. The human contribution to climate change in the form of greenhouse gases (GHG) has a direct effect on germination of cyclones and their intensity, and so it's rampage.   
If cyclone Fani is an act of God, then why have it devastated God's own abode? The coastal temple town of Puri which hosts the temple of Lord Jagganath has become a ghost town after the Fani struck there on 3rd May. As Fani moved north-eastward, the devastation has spread out in other districts. Odisha, which is arguably the leading state in India for its disaster preparedness after having faced the wrath of the 1999 cyclone, must not consider this is an act of god. A previous government had made the grave mistake of considering it an act of God in 1999. Aiming for a zero loss strategy this time, the government evacuated 1.2 million people in a few days, a move which is receiving praises across the world. Despite the loss of 40 lives, 35 percent green cover and damaged infrastructure, the government along with 40 million people has shown courage and bravery to face the cyclone. The exact loss and damage estimation will be in the public domain in a couple of days.
Acts of God provisions, also known as 'Force Majeure' clauses, relate to events outside human control – like natural disasters. Generally, these provisions eliminate or limit liability for injuries or other losses resulting from natural disasters. For insurance purposes 'acts of God' are defined as events that occur through natural causes and could not have been avoided through the use of caution and preventative measures. The key is whether a human or humans could reasonably be considered at fault - at least until insurance companies find a way to sue God. In India, private insurers avoid providing insurance in the name of the act of God provisions during disasters while government insurers like Life Insurance Company have them. Coverage for acts of God is not always straightforward, and it is not usually in an insurance company's interests to make it so. An Indian movie called Oh My God (OMG) explains the linkages between an act of God and an earthquake quite well.
The question of an act of God is not confined to Cyclone Fani or India. It has large ramifications in ongoing negotiations on 'loss and damage' under the UN Framework of Climate Change Convention. The act of God is an overstatement in the age of Anthropocene. In 2013, member countries of UNFCCC established 'Loss and Damage Mechanism' to address the loss and damage associated with impacts of climate change including extreme events and slow onset events. The progress has been slow due to liability clauses as many countries who are responsible for large GHG emissions are deliberately hiding under the pretext of act of God.  
Meanwhile, Indian PM proactively declared compensation worth INR 1000 crores for the three states - Andhra Pradesh, Odisha and West Bengal - before the landfall of Fani. He even tweeted that he will be visiting 'Day after Tomorrow' (a reference to the 2002 Hollywood movie on climate change) for an aerial survey of Odisha to take stock of the damage. Has he previously declared central aid for Kerala, Chennai or even Odisha since he became PM? During this season of unprecedented election theatrics, each act or word or for that matter, a tweet is considered political despite one's genuine concern. With this act of proactive aid declaration, a special convening meeting with the officials and the tweet, the PM is aiming to please voters for the remaining phases of general elections in 8 states, accounting for 169 MPs. Odisha's CM Naveen Patnaik - whose record of making Odisha a leading model resilient state in India for its preparedness of disaster has been unblemished - has already made the aerial survey yesterday.
Since 1971, a severe cyclone has struck Odisha every 20 years or so with numerous intermittent cyclones in between. In 1999, when the NDA was in Delhi, a super cyclone took more than 10,000 human lives leaving behind a trail of destruction from which Odisha took years to recover. The Congress party, which was in power in 1999, is yet to recover in Odisha. Cyclone Fani has happened after 20 years and now NDA II is at the centre. A comparison of centre-state relation in the time of disaster as well between Vajpayee and Modi vis- a- vis disasters in states must not be ruled out in the following days in print and electronic media, especially during this election season. Recovery and rehabilitation, however, will remain a high priority for people who have suffered due to Fani. Force be with you all in Odisha.
This was first published in the Down To Earth blog on May 06, 2019.