Commentaries
Why China refuses to label JeM's Masood Azhar as a global terrorist
March 26, 2019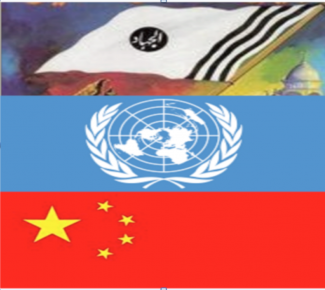 China's latest position on Masood Azhar, the dreaded terrorist leader who heads Pakistan based Jaish-e- Muhammad (JeM) has angered Indians, to say the least. While China has been consistent in its stance for years on the JeM terror fountain head without a care for the world opinion, reactions from the Indians have been fluctuating between two extremes — call by some nationalist outfits to boycott Chinese goods and services or even burn Chinese products from one corner to a stoic silence or at best a carefully designed posture by Indian diplomats by showing 'disappointment' in official terms, to the other. It is thus important to understand as to why China refuses to endorse and India insists on branding Azhar as a global terrorist, in the first place. 
On March 14, 2019, UN Security Council (hereafter, UNSC) permanent veto-wielding member PRC (Peoples' Republic of China) put 'technical hold' on a proposal sponsored by three permanent members (France, US and UK) and all non-permanent members (Germany, Poland, Belgium, Australia, Japan, Bangladesh and Italy were all co-sponsors of this move) to designate Jaish-e-Mohammad founder Azhar a 'global terrorist' (through inclusion on the list of sanctioned individuals under Security Council Committee pursuant to resolutions 1267 (1999) 1989 (2011) and 2253 (2015) concerning ISIL (Da'esh), Al-Qaida and associated individuals groups undertakings and entities). A technical hold is technically valid for six months, extendable by another three months, as per existing rules. Russia's position is interestingly poised from a diplomatic prism. In sum, a single veto can spoil a known global effort, initiated by India and supported by the world.
International Diplomatic Build-up
On 15 March 2019, France decided to sanction Azhar at the national level by freezing his assets through the application of the Monetary and Financial Code. "A joint decree of the Ministries of the Interior, and Economy and Finance was published in the Official Gazette," said a press statement from the Government of France that was also placed on social media by the French Ambassador to India.
On 19 March 2019, Federal Republic of Germany (hereafter, Germany) had also initiated a move at the European Union to designate Azhar as a global terrorist after China blocked a bid at the United Nations to ban him. Germany is in touch with several member nations of the European Union for listing Azhar as a terrorist which will result in his travel ban as well as freezing of his assets in the 28 countries of the European bloc. The German initiation is yet to be translated into an official EU resolution as of date, which is based on the 'principle of consensus'. In sum, there is a visible attempt by a majority of countries to support India in its avowed war on terrorism, yet tangible diplomatic outcomes are yet to be seen or felt.
Net results of diplomatic efforts at global (UNSC), regional (EU or elsewhere) or country-specific/local (France, for example), if successfully executed, can connote the following: a) freeze of tangible financial and infrastructure assets (attachment of properties and freezing of bank accounts, etc.); travel ban (prevention of entry into or transit through sovereign territories by such individuals), and arms embargoes (preventing direct or indirect supply, sale and transfer of arms and related material of all types by such individuals or entities). While such efforts are laudable, are they enough or visibly productive? Doubts remain.
The Chinese Onion Syndrome
This is the fourth time that China has blocked such an effort ever since Hafeez Sayeed and his deputy Zaki-ur Rahman Lakhvi were listed in 26/11 tragedy in Mumbai in 2008. Attempts by India to bring in Azhar into the UNSC-recognised list of individuals as a 'global terrorist', soon after terror attacks in Pathankot Air Force Station on 2 January 2016, with subsequent Army-led special forces operations, were also blocked through a 'technical hold' by China. The latest block by China a few days back, whether one likes or not, connotes a consistency in Chinese diplomacy on issues related to terrorism in general and in Indian sub-continent in particular, that denote larger Chinese strategic considerations than applied to one individual case.
Why should China — who does not want to be number two Super Power (vis-à-vis the US, who wants to be the perpetual/eternal number one) — take a technical point to block a move to brand Azhar as a global terrorist, a move supported by most countries on earth? The question itself is multi-dimensional, while probable answers are no less subjective.
Explanations to the fundamental question as to why China blocked the move can be categorised (although intertwined at some point or the other) under three broad categories – diplomatic (including politico-strategic connotations at the regional level), economic and domestic constituencies. Nowhere is 'Onion Syndrome' (I define Onion Syndrome as 'a sum total of state behaviour/ action on a particular issue, where the state shows consistency in its action on the particular issue that otherwise has distinct yet intricately intertwined dimensions/reasons') more visible than the Chinese move to block a global proposal on Azhar. Chinese onion syndrome is visible in issues like  Kashmir, Tibet, Arunachal Pradesh, LAC within South Asia, apart from issues at international regimes, cross-straits relations (Taiwan) and others. Whether China dilutes its onion syndrome, from an exclusivist posture to an accommodative one, remains to be seen.
Probable Outcomes
Diplomatically, China has scored a point (short or long term, one will debate, as Chinese diplomats seem to have softened their official stance with unofficial diplomatic gestures that await visible outcomes), pointed at the international community in general (the US in particular) and India in particular. It has also proved through an internationally accepted legal norm that it can express its voice of dissent through a 'brahmashtra' called veto power, which it will use at will for even an issue like Azhar, which is considered insignificant in diplomatic terms vis-a-vis issues like non-proliferation. China knows too well that so-called stringent individual actions by countries like France, which is seen by China as eager to be friendly with India for less non-diplomatic but more business-like (read, defence and non-defence business), will be ineffective. It is probably all too happy that efforts from India's friendly countries like Germany in EU will not bear fruit as a small country, sufficiently influenced, can spoil the long-drawn 'principle of consensus' (remember, a country like Ireland had objected to India's efforts at being admitted into global non-proliferation regimes). Being a veto-wielding power and with a perceived image of a possible challenger to the US at the global stage, China has shown its real self – blocking Azhar is a small case in point. Consistency in Chinese stance could propel it to continue the same stance in the near future in diplomatic spheres.
This move has enormous politico-strategic implications in the South Asian regional security in general and the Indian sub-continent in particular. Azhar, a spiritual preacher and teacher of Islam based in Pakistan, with organizational-financial-ideological-logistical tentacles spread across South Asia, and ubiquitously linked to United Jihad Council (UJC) and supported by the state and its organs (Pakistan and ISI), will be happy to note Chinese diplomatic gestures. From a politico-strategic point, Azhar probably knows that China will support his cause (probably not necessarily for long though) for two reasons: a) Pakistan has not yet sufficiently built Chinese strategic interests within its own state despite heavy Chinese investments in Pakistan through infrastructure projects like CPEC, Gwadar port, etc. and presence of thousands of Chinese in Pakistan in different capacities; and b) China knows the outreach impact of Azhar's teachings as well as other preachers in troubled Chines regions, especially on Uighurs in Southern China in Xinxiang and Chengdu region. A strategic bargain may be sprouting between Chinese interests and Islamic elements in Pakistan. Who knows? All within spheres of speculations.
In larger strategically induced economic terms apart from pure so-called development-oriented projects, China has invested heavily in Pakistan and has developed considerable strategic interests in Pakistan (including military assistance translated into economically profitable military industrial partnerships like joint ventured JF-20 fighter project). Strategic American withdrawal is paving the way for strategic Chinese entry into Pakistan – a phenomenon that witnessed zigzag pattern in initial years and visible of late in the last two decades. Chinese strategic economic interests will get reflected in larger Chinese strategic calculus, is to state the obvious.
Instead of getting trapped into a strategic-diplomatic trap, India needs to be pragmatic and result oriented. India's actions in Balakot serves as the starting point: a) it shows India's resolve, which is aimed primarily at signalling the wider community of its intents than mere body counts; b) Chinese stance on Azhar is more 'technical' than 'non-accommodative' suggesting a diplomatic window opportunity for further hard bargain, and c) last but not the least, India should aim at tranquilizing/eliminating all prime preachers, including Azhar, thereby sending a larger message of its strategic intents in fighting religion-led terror in the region and elsewhere.
NOTE: A similar version of this commentary was published in CNBC-TV18, March 25, 2019