News / Event
November 25, 2022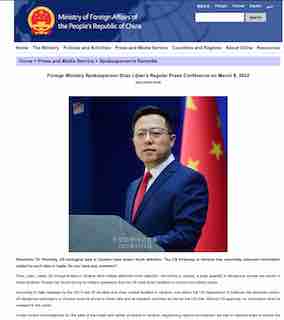 China, ostensibly neutral on Vladimir Putin's invasion of Ukraine, took a significant step into Moscow's camp on Tuesday when a government official repeated a Russian conspiracy theory about the existence of U.S.-funded biological weapons in the country.
At a regular press briefing in Beijing, Zhao Lijian, a spokesperson for China's Foreign Ministry, read out a Russian media report about the alleged discovery of a "military biological program" in Ukraine in the days after the large-scale offensive began.
The United States should publicly disclose information about its biological research facilities in the country, Zhao said.
It comes less than 24 hours after Chinese state broadcaster CGTN published a report by Russia's Defense Ministry, whose spokesperson, Maj. Gen. Igor Konashenkov, said on Sunday that Russian forces had found evidence of attempts by Ukraine to destroy traces of bioweapons, including "lethal pathogens" allegedly used as part of a "military biological program financed by the U.S. Department of Defense in Ukraine." 
Full Report: John Feng, "China Peddles Russia's Claim That U.S. Has Bioweapons in Ukraine", Newsweek, March 08, 2022

Complete Transcript: Chinese Foreign Ministry Spokesperson Zhao Lijian's Regular Press Conference on March 8, 2022.