Commentaries
Artemis Accords: India's Policy Shift
July 07, 2023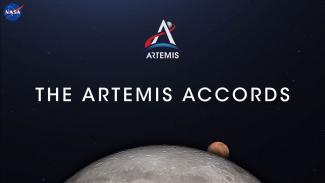 Technology was at the centre stage during the Indian Prime Minister's visit to the United States in June 2023. The joint statement issued comprises more than 40% of the information associated with technology partnerships, defence technology collaboration and aspects of clean energy and space technologies.
In the space arena, 'the big-ticket item' was India signing the Artemis Accords. The US was known to be keen on India joining their agenda of establishing a multilateral arrangement outside the purview of the United Nations. Artemis Accords is NASA's articulation regarding how the world should make progress in reaching the Moon, Mars and beyond. As a signatory state, India has given a political commitment to the norms and principles it would abide by.
For all these years, India has always held a moral position that a significant number of debates and discussions are essential, preferably at the level of the United Nations (UN), before formulating any mechanisms like treaties, codes of conduct, rules of the road, guidelines, best practices or any such other mechanisms. It was always argued that being an important space player, India should be at a High Table before finalising any global mechanism for undertaking operations in space. But now India has signed a mechanism developed by NASA. Within India, there is mostly a positive reaction about India joining this mechanism.
In principle, various sections of the Artemis Accords align with global thinking regarding the use of space for peaceful purposes. However, there are some problem areas which should not be overlooked.
There is a belief that India would gain much technology as an Artemis member. In the past, NASA has helped ISRO during Moon and Mars missions. However, there is a difference between providing sensors, assisting in deep-space communications, and actual technology sharing. The ongoing NASA-ISRO Synthetic Aperture Radar (SAR) satellite project could be an exciting take on collaboration. NASA has already delivered the satellite to India, and ISRO will launch it in January 2024.
Regarding manufacturing of this satellite, both NASA and ISRO have provided their own payloads, and the satellite has been built. So, there appears to be no technology transfer or joint development of technology. History indicates that actual technology transfer from NASA is going to be challenging. India must push for that under the US-India initiative on Critical and Emerging Technology (iCET).
Artemis Accords is a complex architecture that demands different contracts for different activities. The US has specific processes to deal with export controls, and there are International Traffic in Arms Regulations (ITAR). Usually, these rules are non-negotiable. So, no technology transfer is assured. India's private space industry should understand that there would be no single window clearance concept for undertaking contracts. Also, owing to ITAR issues, India would be required to deal only with the friends of Americans! Amongst the other members of Artemis, only Japan and Israel are experienced space-faring nations. At the bilateral level, India has the best relations with these states, and an Artemis umbrella is not required to collaborate with them. Arguments are made like India can collaborate with Canada to develop robotic arms. It looks to be an attractive proposal, but India's robotic industry should be capable of undertaking such projects.
The Issue of Space Resources is a black hole. It is a bit difficult to predict the future. But looking at technological advances, getting a large amount of space resources from the planets looks feasible in the future. Interestingly, some powers in the world look to have outsourced planetary and asteroid missions to the private sector. States like the US, Luxembourg, the United Arab Emirates (UAE), Japan and India have space policies permitting private players to undertake space mining activities for commercial purposes. All these states are signatories to Artemis Accords. This document also speaks of the creation of 'safety zones' on other planets. This means the agency, which first reaches a particular planet, can earmark zones of their choice. Agencies would look for zones with a reasonable possibility of getting minerals. The US space industry will likely get maximum benefits from the present trend. Signatory states need to discuss all such possibilities. They should push for a UN treaty mechanism on space mining in their own interest.  
Data is new oil. As per Artemis Accords, there is no commitment for the private sector to share scientific data. Since most of the operations to planets and asteroids will likely be conducted by the private sector in the future, the prospects of data sharing look bleak.
India has joined the Artemis Accords with open eyes. For years, India has managed to sail through the rough waters of sanctions and export control challenges. In 2005, the Indo-US nuclear deal became a reality despite the 'existence' of the disarmament ayatollahs. For a long time, India has been able to balance their relations with Russia and the US. Possibly, India feels that as an insider, they would be able to restrict the US from becoming the sole gatekeeper to decide on the future of space.