Commentaries
Market Hunting: Exploring Military-Technical Cooperation in NB-8 and India Relations
November 19, 2023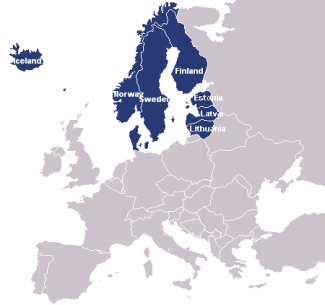 Confederation of Indian Industry (CII), in collaboration with the Ministry of External Affairs (MEA), Government of India, is organizing the second edition of the CII India Nordic Baltic Business Conclave from 22-23 November 2023 in New Delhi. Indian Minister of External Affairs Dr S Jaishankar and Minister of Commerce and Industry Mr Piyush Goyal are slated to address this Conclave, while top foreign affairs and industry dignitaries of all eight Nordic-Baltic countries (known as NB-8) – Denmark, Norway, Sweden, Finland, Iceland, Estonia, Lithuania and Latvia – have confirmed their participation in this event.
Larger thematic subjects are normally deliberated in such events. Economic cooperation tends to get highlighted frequently. Strategic underpinnings evident in other recently emerged groupings like I2-U2 or Indo-Pacific may attract more attention than events like this, which otherwise suggests limited scope for advancing strategic interests by participating countries in such events. However, sub-sets of theme-based relations, if explored, have the capacity to bring in tangible results while strengthening bilateral or group relations. Thus, while varied themes like sustainability, global supply chain resilience, the future of business and futuristic technologies are seen as major areas of future economic collaboration, an important sub-set like military-technical cooperation could always be explored for a robust relationship as well. Such exploration, followed by concrete action on the ground, can entail strategic dividends for all members.
Big military suppliers like the US, UK, France, Russia, Israel and other major countries of Europe have thus far played a dominant role in the Indian military-industrial landscape. As India is visibly moving away from earlier era ideology-induced hesitation, structural state control, limited international military S&T collaboration, almost absent military exports leading to large-scale military import dependency, and showing signs of a businesslike approach to military production and exports in current times, NB-8 group can be seen as a potential ground for military cooperation for them as well as India.
Three ideas are advanced here for further deliberations. First, one of the prominent members of the NB-8 – Sweden – has a long history of military-technical cooperation with India. Bofors artillery system is battle-proven and has been an outstanding contributor to Indian military might for decades. Controversies aside, its replicated version – Dhanush – is now produced by Advanced Weapons and Equipment India Limited (a new public sector company which has amalgamated the earlier Bofors manufacturer Gun Carriage Factory, Jabalpur). Sweden had also offered its prime single-engine supersonic fighter – Saab JAS-39 Gripen – in the much-publicized Indian tender for 126 MMRCA during 2006-2007, which was scrapped subsequently, and India preferred the French Rafale over other systems. However, that has not deterred Sweden from pursuing military-technical cooperation with India. As recently as early this month, India announced a major milestone in its military-industrial landscape by approving an important military manufacturing project through 100 per cent foreign direct investment (FDI) and awarding it to Saab. The flagship Swedish company Saab FFV has already created an Indian subsidiary. It will make the latest generation of shouldered fired rocket – the Carl-Gustaf M4 system as part of this project. The project is likely to come in the state of Haryana. This not only marks a strategic departure by a major global military equipment supplier to go out of its country of origin but more importantly, establishes India as a military manufacturing destination, a point flagged consistently by the Indian Prime Minister Narendra Modi.
Other prominent Nordic countries like Denmark, Norway, and Finland have joined hands with Sweden through a Letter of Intent (LoI) to cooperate seamlessly in their air assets and air forces, which could be a stable sub-set of European airpower. This also gives India and Nordic countries opportunities for further exploration in military cooperation. Norwegian flagship company Kongsberg may be known as a major maritime military producer, but its other products, like Kongsberg Digital, also offer ample possibilities for India. A survey of Nordic military industrial capacities suggests that not only big companies like Saab and Kongsberg have demonstrated their expertise across air, naval and land-based domains, but it is also important to note that an aspiring power like India must also explore numerous dual-use items produced in these countries like telecom, strategic communication equipment, military electronics and relevant hardware as well as support systems.
Nordic military-industrial prowess may appear much bigger than its Baltic counterpart. Still, it must be remembered that new sovereign Baltic republics carved out of the erstwhile Soviet Union have retained military-industrial remnants of the earlier era. Nasva-headquartered Estonian major – Baltic Workboats AS – could be a major shipbuilding and MRO partner along with major Latvian JSC Riga Shipyard for big Indian defence shipyards like Garden Reach, Goa Shipyard or Kochin Shipyard. It may be noted that battle-hardened Baltic states have had facilities such as the Liepāja naval base, the Skrunda anti-ballistic missile radar station, the Ventspils space-monitoring station in Latvia and the Paldiski submarine base in Estonia, as well as transit rights to Kaliningrad through Lithuania. Such facilities may have been dismantled or demobilized, but remnant Baltic scientific knowledge could be explored for further cooperation. Indian policymakers should not lose sight of such historical corollaries but instead, use these to advance national interests in regions that offer business opportunities.
Aspiring global powers like India must go beyond conventional routes in international relations and employ tangible-intangible methods to advance national interests. While bigger platforms like G-20 or Indo-Pacific offer immense opportunities and challenging tasks, comparatively smaller yet significant business multiplier platforms like NB-8 offer multiple scopes to enhance cooperation among willing countries. As a top arms importer and, of late, a major military-industrial market, India offers one of the best mutually complementing grounds for cooperation. Military business as a sub-set of strategic relations should play a visible part in the coming times.